RELEASE DATE: 2/13/10
FOR IMMEDIATE RELEASE: Carr's free throw with three seconds left lifts Mansfield to 81-80 win at Cheyney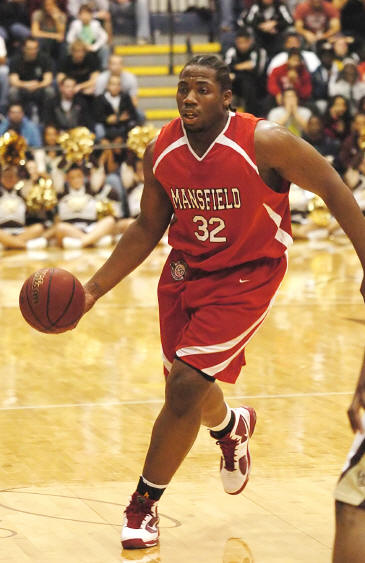 CHEYNEY – Yuseff Carr's free throw with three seconds left lifted Mansfield to a 81-80 win at Cheyney in a PSAC East game at Cope Hall Saturday afternoon.
"In the last five second when we need to most we executed," said head coach Rich Miller. "It's a tough place to play and a tougher place to win, but we needed that win to keep pace in the conference and to regain our confidence."
Carr's free throw came just after Cheyney rallied from seven points down with just under four minutes left to tie the game 80-80 on a 3-pointer by Amarildo Matos with :26 to play.
Cheyney held a 28-20 lead midway through the first half before Mansfield used a 10-0 run capped off by a Carr jumper to take a 30-28 lead with just over six minutes before halftime and Mansfield maintained that lead taking a 40-38 lead into the locker room.
Mansfield pulled steadily away in the second half extending its lead to 66-56 midway through the period. The Mountaineers held a 76-69 advantage on Tony Fannick's layup with 3:53 to play. But the complexion of the game changed when Carr picked up his fourth foul after being called for two quick offensive fouls.
With Mansfield unable to go inside to its big man, Cheyney rallied to close the gap to 78-77 on a layup by Rob Townsend with just over two minutes left.
Ryan Callahan hit two free throws thirty seconds later to put Mansfield up 80-77 before Matos tied the game with a 3-pointer from the corner following a Cheyney timeout.
Mansfield called a timeout with six seconds left and went with a play that got the ball inside to Carr who was fouled on the shot. Carr hit the first to give Mansfield the lead but missed the second. The ball was rebounded by Cheyney's Tyrone Smith whose potential game-winning shot went off the front of the rim as the buzzer sounded.
Callahan was clutch in the second half scoring 18 of Mansfield's 41 points over the final 20 minutes including hitting all eight of his free throws. Callahan had 23 points for the game with Carr scoring 19 points and Chris Pender 18 twelve of which 12 came off of 3-pointers. Justin Simmons added 10 points and a game high nine rebounds.
Mansfield, which had been one of the top scoring teams in the conference, scored more than 80 points for the first time in six games since beating then No. 2 ranked Kutztown 94-87 back on Jan. 20. The Mountaineers shot a season-best 62.5% from the floor including 57% (8-14) of their 3-point attempts.
Cheyney was led by Sharif Bray who scored a game-high 32 points. Tyrone Smith added 15 points whith Rob Townsend chipping in with 12.
Mansfield is now fourth in the PSAC East after East Stroudsburg and Kutztown both won today. Kutztown has to play at East Stroudsburg and Cheyney at West Chester on Monday in rescheduled games from last week's snowstorm.
Mansfield has beaten Cheyney in both meetings this season to own the head-to-head tiebreaker with the Wolves.
Mansfield host East Stroudsburg on Wednesday.
2009-10 PSAC Men's Basketball Standings
School

Conf

CPct.

Overall

Pct.

Streak

East

7-2

0.778

20-2

0.909

W1

6-3

0.667

19-3

0.864

W2

6-3

0.667

13-9

0.591

L1

6-4

0.600

15-8

0.652

W1

4-6

0.400

10-12

0.455

W2

3-6

0.333

14-8

0.636

L1

3-6

0.333

10-12

0.455

L1

2-7

0.222

7-15

0.318

L5

West

7-1

0.875

18-2

0.900

L1

7-2

0.778

15-7

0.682

L1

5-4

0.556

15-7

0.682

L1

5-4

0.556

10-11

0.476

W1

4-6

0.400

16-9

0.640

W4

3-6

0.333

6-14

0.300

L1

3-7

0.300

14-9

0.609

W1

3-7

0.300

9-14

0.391

L1