RELEASE DATE: 2/12/10
FOR IMMEDIATE RELEASE: Mountie men and women face stiff test at Cheyney Saturday
MANSFIELD – The Mansfield men's and women's basketball teams will both face stiff tests when they face Cheyney on the road at Cope Hall Saturday afternoon.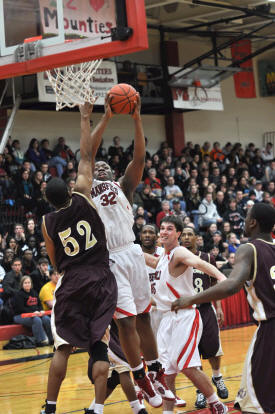 The Mountaineer men, currently in fourth-place in the PSAC East with a 5-4 mark, will try to snap a two-game losing skid against a Cheyney team that is tied with East Stroudsburg atop the PSAC East with a 6-2 mark.
Mansfield won the first meeting between the two team at Decker Gymnasium by a 81-72 margin. Senior Chris Pender had a season-best 19 points in that first meeting to lead five Mountaineers in double-figures while Derrison Anthony recorded a double-double with 15 points and 11 rebounds.
The sixth leading scoring teams in the PSAC this season averaging 76.6 points per game, the Mountaineers have struggled offensively of late scoring less than less than 70 points in each of their last five games.
During the two-game losing skid Mansfield has shot just 38% from the floor and 47% (17-36) from the free throw line. Yuseff Carr, the Mountaineers top scorer and rebounder, has averaged 7.0 points per game over the last two games. Carr averages 16.4 points and 8.9 rebounds on the season.
Senior Ryan Callahan surpassed the 1,000 point career milestone with his 18 point performance at Kutztown and is averaging 14.7 points on the season. Sophomore Tony Fannick returned to the starting lineup at Kutztown after being plagued by injuries over the past month averages 11.4 points per game for the season.
Junior Derrison Anthony has been one of the most consistent players in the lineup of late and is averaging 10.3 points and 7.1 rebounds per game on the season including 12.7 points and 8.0 rebounds per game against conference foes.
Senior Chris Pender has struggled to find his mark of late hitting just 5-of-17 from the floor – all 3-pointers – over the last two games. Pender is still averaging 10.1 points per game on the season.
Senior point guard Justin Simmons is averaging 8.0 points including 9.7 ppg against conference foes.
Cheyney is currently the hottest team in the PSAC East having won its last five games and six of its last seven including a 92-78 victory in overtime at Bloomsburg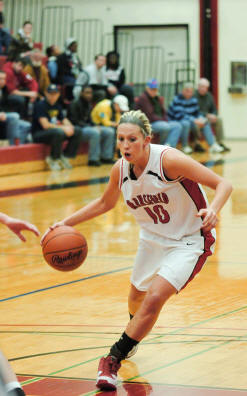 in their last outing. The Wolves last loss was a 77-73 setback to East Stroudsburg.
Mansfield has won just once in the last four years at Cope Hall and the Mountaineers will be facing the PSAC's second leading scorer in junior Sharif Bray who is averaging 21.1 points per game. Senior Kevin Presbery averages 12.8 points and 6.8 rebounds per game.
The Mountaineer women have also struggled offensively, especially in the first half of games, for much of the season and rank 16th in the PSAC in scoring with a 51.7 points per game average. Mansfield is in seventh-place in the PSAC East with a 1-8 conference mark after dropping a 72-44 decision at Kutztown on Thursday.
MU dropped a 61-41 decision to Cheyney at Decker Gymnasium earlier this season with Mallory Moore and Mallory Hafer each scoring 13 points in that game.
The duo, along with junior point guard Nicole Pender, accounts for 63% of all the Mountaineers points this season. Moore, a sophomore forward, ranks among the PSAC leaders in scoring (12.7 ppg) and rebounding (8.4 rpg) while Hafer's 54 3-pointers on the season is more than the rest of the team combined. No other Mountaineer has more than six 3-pointers on the season. Pender is averaging 9.2 points per game with 78 assists.
Cheyney, currently in a four-way tie for fourth-place in the PSAC East with a 4-4 mark, is led by seniors Angel Stephens and Lutfiyya Muhammad who is among the conference scoring leaders averaging 13.8 and 13.6 points per game respectively.