RELEASE DATE: 1/16/10
FOR IMMEDIATE RELEASE: Mansfield men win fifth straight in 81-72 win over Cheyney – Chris Pender leads five Mountaineers in double-figures with game-high 19 points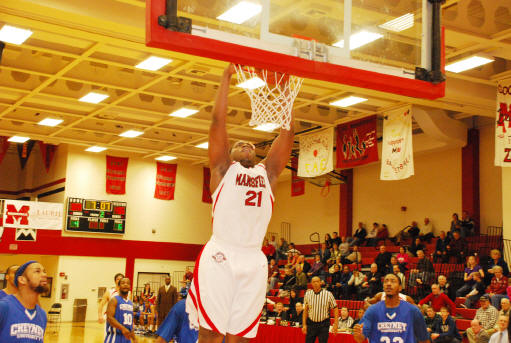 MANSFIELD – Senior Chris Pender topped five Mountaineers in double-figures with a game-high 19 points to lead Mansfield to a 81-72 win over Cheyney in a PSAC East contest Saturday afternoon in Decker Gymnasium.
"That was a very satisfying win for us," said head coach Rich Miller. "He wasn't our leading scorer but we got a nice lift when Donny Lyons came into the game late in the first half. We made a lot of our offense happen with our defense."
The game started on an ominous note for the already understaffed Mountaineers when Mansfield's leading scorer Yuseff Carr was forced to leave the game in the first minute after being the victim of a blood-foul and missed the next seven minutes of the contest.
A tight first half featured seven ties and four lead changes before Mansfield broke a 22-22 tie with a 10-0 run late in the half taking a 32-22 lead on a Justin Simmons layup with three minutes remaining in the half.
Mansfield held a 36-30 lead at halftime and extended that advantage to 53-36 five minutes into the second half. Chris Pender keyed that run with three 3-pointers over that span. Mansfield went on 29-11 run over the first ten minutes of the second half taking a 65-41 lead on back-to-back 3-pointers by Lyons.
Mansfield led by as many as 25 points with seven minutes to play before Cheyney came roaring back using a 13-1 run to cut the lead to 72-64 on a 3-pointer from Kevin Presbery with 3:48 to play.
Presbery hit a layup with 35 seconds left in the game to pull the Wolves to 76-72 but a pair of free throws by Simmons with 28 second to go and Lyons block of Cheyney 3- pointer with eight second left sealed the win for the Mountaineers.
The win was the first for the Mountaineers over Cheyney in Decker Gymnasium since the 2005 season and extended Mansfield's current winning streak to five straight games. MU has now won seven of its last eight games.
Pender hit four 3-pointers and went 7-of-8 from the free throw line in scoring his 19 points while Carr and Derrison Anthony each scored 15 points. Anthony also recorded his third straight double-double with a game-high 11 rebounds. Simmons added 13 points with Lyons scoring 10 points. Senior Ryan Callahan just missed scoring double-figures with nine points but dished out a game-best six assist and had four steals.
Sharif Bray led Cheyney (7-7, 1-1) with 17 points while Presbery added 16 points.
Mansfield improved to 11-4 overall and 2-0 in the PSAC East. The Mountaineers will host No. 3 ranked ranked Kutztown this Wednesday night in Decker Gymnasium.