RELEASE DATE: 3/22/10
FOR IMMEDIATE RELEASE: Mansfield's Yuseff Carr named to NABC Division II Atlantic All-Region team – junior one of four PSAC players to earn honor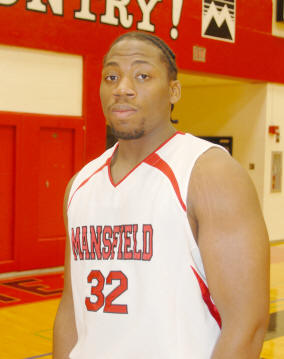 MANSFIELD – Mansfield University standout Yuseff Carr (New York City,NY/East NY Transit Tech) has been selected to National Association of Basketball Coaches (NABC) 2010 NCAA Division II Atlantic Region All-District honors.
Carr, a 6-6, 284 forward, was one of five players selected to Second Team honors with six players receiving First Team recognition.
"It's exciting for Yuseff and for our program," said head coach Rich Miller. "To be named one of the top 11 players in the region is a tremendous honor, especially for a junior, and Yuseff certainly deserved it."
Carr was one of the most dominant players in the PSAC this season ranking sixth in the conference in scoring (16.9 ppg) and seventh in rebounding (8.5 rpg). He also ranked among the conference leaders in field goal percentage (52.5%) and blocked shots per game (1.4 bpg).
Carr, who scored 474 points this year, became the 24th player in MU men's basketball history to reach the 1,000 point career milestone late in the season, has scored 1,056 points in his career to date.
Carr, who also earned First Team All-PSAC East honors this season, was one of just four players from the PSAC to earned first or second team All-Regional honors.
Carr led the Mountaineers to the PSAC East Division title this year and a berth in the PSAC playoffs. Mansfield finished the season with a 19-9 overall record.
Carr is the first Mountaineer to earn NABC All-Region honors since Omari Pearson was named to Second Team honors in 2003-04.
Mansfield University NABC All-Region Selections Since 1977
1977 – Stan Mahan (Third Team)
1981 – Darryl Brown (First Team)
1984 – Nelson Tuitt (First Team)
1986 – Chris Venning (First Team)
1986 – Brian White (Second Team)
1987 – Brian White (First Team)
1997 – Lawrence Culver (Second Team
1997 – Louis Judson (Second Team)
2004 – Omari Pearson (Second Team)
###