RELEASE DATE: 3/01/10
FOR IMMEDIATE RELEASE: Ryan Callahan named PSAC East Player of the Week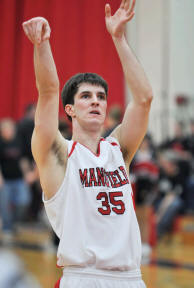 MANSFIELD – Mansfield University senior Ryan Callahan has been named the Pennsylvania State Athletic Conference (PSAC) East Division Player of the Week for his outstanding performance during the week ending 2/28/10.
Callahan helped Mansfield to a 2-0 week to clinch the No. 1 seed in the PSAC East and a divisional co-championship by averaging 29.5 points, 2.5 rebounds, 2.0 steals and 1.5 assists in wins over Bloomsburg and Millersville. Callahan connected on 57.1 percent of his shots from the floor (16-for-28), including 8-of-14 from three-point range (57.1 percent). He also was 19-of-22 from the free throw line (86.4 percent). He scored a season-high 29 points in a four-point win over Bloomsburg on Wednesday, including hitting on 14-of-16 free throws and 17 points in the second half. He played all 40 minutes of that game. He then one-uped his season high by scoring 30 on 10-of-15 shooting in Saturday's win over Millersville, with 19 of those points coming in the second half.
Callahan ended the regular season ranked 10th in the PSAC in scoring averaging 15.9 points per game. The senior sharpshooter has 1,077 points in his Mansfield career.
Mansfield, the No. 1 seed in the PSAC East, will host Kutztown in a PSAC Quarterfinal at 7 p.m. on Thursday at Decker Gymnasium.