RELEASE DATE: 11/15/09
RELEASE DATE: Yuseff Carr scores 23 points and Tony Fannick records double-double to lead Mansfield to season opening 83-73 win over Bowie State
RELEASE DATE: 11/15/09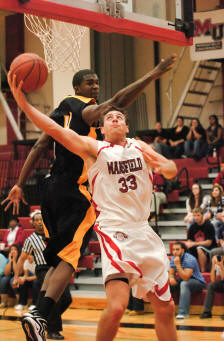 RELEASE DATE: Yuseff Carr scores 23 points and Tony Fannick records double-double to lead Mansfield to season opening 83-73 win over Bowie State
MANSFIELD – Yuseff Carr scored 23 points and Tony Fannick recorded a double-double to lead Mansfield to an 83-73 win over Bowie State in the season opening game for both teams Sunday afternoon at Decker Gym.
"At times we played very well," said head coach Rich Miller. "I thought we did a nice job defensively as a team, especially for a first game. Yuseff (Carr) had a very solid effort as did Tony (Fannick) underneath."
"It's a first game and we have got a lot to work on but overall it was a good over a good team."
Leading 16-14 eight minutes into the game, Fannick got the Mountaineers offense going with a layup followed by a defense rebound at the other end of the floor and then buried a 3-pointer for a 21-14 lead.
Mansfield would extend its lead to 28-16 on a tip-in by Carr with eight minutes left in the first half and held a 41-30 advantage at halftime.
The Mountaineers took their biggest lead of the game two minutes into the second half 51-35 on another Fannick 3-pointer.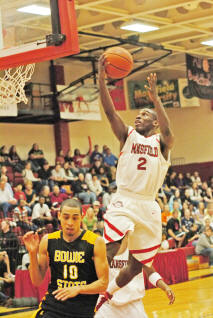 Mansfield held a 70-56 lead with just under seven minutes to play on a Justin Simmons layup before Bowie State mounted a comeback closing the gap to 77-72 with 1:48 to play.
Carr connected on 10-of-15 from the floor and also added nine rebounds and four steals to his team-high 23 points. Fannick recorded a double-double adding 11 rebounds to his 17 points. Senior Ryan Callahan also scored 17 points with Chris Pender adding 16 points.
Duke Crews led Bowie State with a game high 25 points while also pulling down eight rebounds.
Mansfield has an eight-day break before hosting the University of the District of Columbia on Nov. 24.