RELEASE DATE: 2/03/10
FOR IMMEDIATE RELEASE: Carr's dunk in final seconds gives Mansfield 68-67 win at Bloomsburg – Mounties wrap up first half of PSAC East season in second place one game behind East Stroudsburg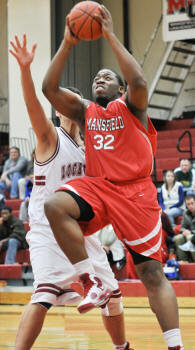 BLOOMSBURG – Yuseff Carr's dunk with five seconds left gave Mansfield the lead and a missed Bloomsburg free throw with .03 remaining sealed the victory in an 68-67 come-from-behind PSAC East win at Nelson Fieldhouse Wednesday night.
"Yuseff's dunk was a perfect high-low play," said head coach Rich Miller. "He wasn't going to be denied and took the Bloom defender with him on his way up."
The game was close throughout the first half with neither team leading by more than three points and Bloomsburg holding a 32-31 halftime advantage.
Two minute into the second half Bloomsburg started an 8-0 run and increased its lead to 48-38 on a layup by Trevon Johnson four minutes later.
The Huskies led 58-51 with just under seven minute to play before Mansfield went on a 6-0 run to cut the margin to 58-57 on a layup by Derrison Anthony with 4:23 to play.
Mansfield took its first lead of the second half on Chris Pender's 3-pointer with 1:14 to go but Bloomsburg's Trevon Johnson hit four free throws over the next minute to give Bloomsburg a 66-64 lead.
Mansfield tied the score at 66-66 seconds later on a layup by Carr and took the lead on Carr's dunk with five second to go after a Bloomsburg turnover.
Bloomsburg's Ruben Britt drove the court and was fouled with .03 left and, after hitting the first throw, missed his second attempt.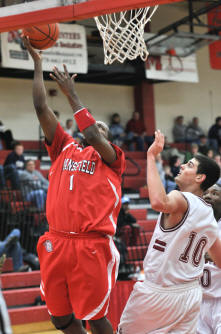 "We did a much better job on the boards – especially the offensive boards in the second half, "said Miller. "Eight of our nine offense rebounds in the game came in the second half and we had a lot of different guys step up with key plays during our run down the stretch."
"DA (Derrison Anthony) had a couple of big plays including baskets, rebounds and blocks and Donny (Lyons) and Justin (Simmons) gave us some defensive energy. "
Carr led Mansfield with 25 points while Derrison Anthony had a double-double with 14 points and 13 rebounds with four assists, three blocks and two steals. Justin Simmons added 10 points.
Trevon Johnson topped Bloomsburg with 25 points with Larry Webster scoring 11 points.
Mansfield finishes the first half of conference play in second place in the PSAC East with a 5-2 mark and improve to 14-6 overall. The Mountaineers, who trail East Stroudsburg by a game for first place in the East, host Shippensburg on Saturday at Decker Gymnasium.