RELEASE DATE: 2/23/10
FOR IMMEDIATE RELEASE: Mountie men and women look to go out winners in final home game of the regular season Wednesday against Bloomsburg
MANSFIELD – The Mansfield University men's and women's basketball teams hope to close out their home regular season with a pair of wins when the Mountaineers host Bloomsburg University this Wednesday evening in Decker Gymnasium.
The women's game tips-off at 5:30 p.m. followed by the men's game at 7:30 p.m. The games will also be broadcast by ESPN Radio Williamsport and Shane Wilber with a steam of the broadcast linked life to www.GoMounties.com.
The games have playoff implications for three of the four teams.
The Mansfield men became the first team from the PSAC East to qualify for a PSAC playoff berth when the Mountaineers rallied to beat West Chester 53-50 on Tony Fannick's buzzer-beating 3-pointer on Saturday afternoon in Decker.
Although Mansfield has clinched a playoff berth, they have yet to clinch a home playoff game by finishing first or second in the PSAC East. Right now three teams, Cheyney, East Stroudsburg and Mansfield are tied for first in the PSAC East with 8-4 records while Kutztown (7-5) and Bloomsburg (6-6) still remain in playoff contention.
Mansfield is also looking to win its last two regular season games against Bloomsburg and at Millersville on Saturday to earn a spot in the NCAA Division II Atlantic Regional Champion held following the PSAC Championship tournament next weekend.
"We might be in the playoffs but we're far from satisfied," said head coach Rich Miller. "Our goal is to host the PSAC playoffs and to advance to the NCAA Regional and right now Bloomsburg and Millersville are standing in the way of that."
Bloomsburg on the other hand needs to win at least one of their remaining two regular season games against Mansfield and Kutztown and maybe get a little help to earn the Huskies first PSAC playoff berth in 10 years.
Right now, Bloomsburg and Mansfield are the two hottest teams in the PSAC East with the Huskies winning their last four games and the Mountaineers their last three contest. Of Bloomsburg six conference losses, four of them have come in overtime and another by one-point to Mansfield in regulation play. Bloomsburg has won its last three road games at Shippensburg, East Stroudsburg and West Chester.
Mansfield is 10-3 on the season in Decker Gym losing only to Shippensburg in conference play at Decker. Five of Mansfield 12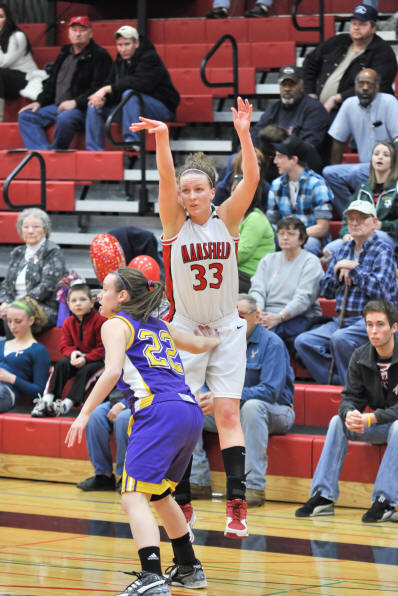 conference games have been decided by three or less points.
Junior forward Yuseff Carr scored 18 points in the Mountaineers 53-50 win over West Chester including his 1000 and 1,001 points. The big man ranks among the conference scoring (16.8 ppg) and rebound (8.7 rpg) and has blocked shots. Carr scored a game-high 25 points including the game winning dunk with second left in the game the first time the two teams have meet.
Senior Ryan Callahan also ranks among the PSAC scoring leaders averaging 14.8 points per game and went over the 1,000 point mark a few games ago. Sophomore Tony Fannick is almost completely back after missing six games midway through the season and is averaging 10.8 points per game. Senior Chris Pender has his long-ball working game hitting 61 3-pointers on the season and averaging 10.4 points per game. Derrision Anthony has been a force inside averaging 9.5 points and 7.3 rebounds per outing while senior point guard Justin Simmons sports 7.8 points per game average.
Bloomsburg also has a well-balanced offense led by Ruben Britt who averages 14,3 points and 5.5 rebounds per game along with a team-high 63 assists. Trevon Johnson is averaging 11.9 points per game followed by Adon El who averages 11.0 points and 6.8 boards per outing. Larry Webster has been a big force under the basket averaging 10.2 points, 7.1 rebounds per game while blocking 58 shots on the season.
While the Mansfield women are eliminated from the PSAC playoffs, the Mountaineers got everyone's attention with last Saturday's stunning 66-61 win over West Chester. Mansfield has played well in each of its last two games at Decker dropping a last-second 68-63 loss to East Stroudsburg before beating West Chester.
Bloomsburg handily beat Mansfield 74-54 three weeks ago behind a steady barrage of 3-pointers but the Mountaineer have become a better team since then especially at Decker Gymnasium. Sophomore forward Mallory Moore has been the mainstay of the team all season ranking among the PSAC scoring (13.0 ppg) and rebound (8.5 rpg) leaders while also ranking in the top 15 free throw shooters and ball stealers.
Mallory Hafer, the Mountaineers only senior this season, is also one of the top 3-pointer shooters in the conference with 63 on the season so far. Junior point guard Nicole Pender is averaging 9.3 points per game while dishing out 93 assists. Junior forward Tegan Atallah and sophomore guard Meredith Hafer are combining to average over 10 points per game with Hafer scoring a career-best 18 points in the win over West Chester.
At 6-6 Bloomsburg is fighting for a playoff berth with Cheyney and West Chester. The Huskies have a deep team that relies of the long-ball. Freshman Dana Wieller has 71 3-pointers already this season and is averaging 16.2 points per game. Kelsey Gallagher is averaging 14.7 points while Kayla Oxenrider averages 10.2 points per game.
Mansfield closes out the regular season with a doubleheader at Millersville this Saturday.