RELEASE DATE: 2/24/10
FOR IMMEDIATE RELEASE: Mountie men close in on home playoff berth with 68-64 win over Bloomsburg
Photo Gallary http://murtlandphoto.com/basketball/bloom/
YOUTUBE LINK: http://www.youtube.com/watch?v=ozizj3vnnfs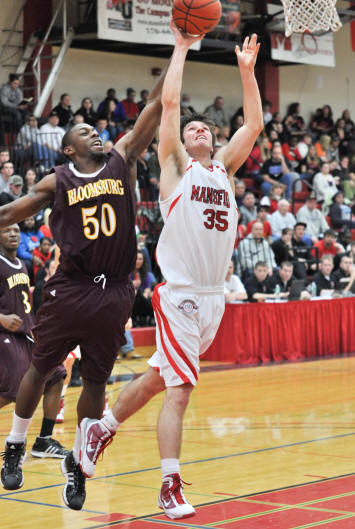 MANSFIELD – Ryan Callahan scored a season-high 29 points and Yuseff Carr added 20 points to lead Mansfield past a stubborn Bloomsburg 68-64 in a PSAC East game Wednesday night in Decker Gymnasium.
"It wasn't a pretty win and one and we had to gut out," said head coach Rich Miller. "Even though we knew we were in the playoffs before the game, we knew we need to win because our goal was never just to get to the playoffs.
"Our goals has always been win the PSAC East, the PSAC title and get into the NCAA tournament and to do that we have to keep winning games."
The game was close for the outset with Mansfield never able to lead by more than six points in the first half before setting for a 30-28 halftime advantage.
The second half saw five ties and four lead changes until Mansfield took a 51-46 lead on a 3-pointer by Callahan with 11 minutes to play. Although Bloomsburg would close to one point Mansfield took a 57-50 lead on a jumper by Yuseff Carr with 5:48 to play and the Mountaineers led by as much as 63-54 with 2:41 before Bloomsburg came roaring back.
Bloomsburg used a 7-0 keyed by a full-court press to cut the lead to 63-61 at the 1:02 mark and the score was 65-62 with 21 seconds to p;ay before Callahan hit two free throws to ice the game.
Callahan scored 17 of his 29 game-high 29 points in the second half and hit 14-of-16 free throws. Carr went 9-of-14 from the floor in scoring his 20 hard-earned points and pulled down seven rebounds with two blocked shots.
Ruben Brett led Bloomsburg with 22 points.
Mansfield remained in a tie for first play in the PSAC with East Stroudsburg and Cheyney, both also winners Wednesday, with a 9-4 conference mark and improved to 18-8 overall.
Mansfield wraps up the regular season this Saturday at Millersville.