RELEASE DATE: 2/10/10
FOR IMMEDIATE RELEASE: Mansfield men face three big games over next seven days in PSAC East title quest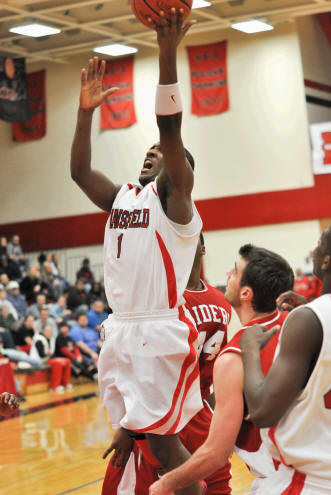 MANSFIELD – The Mansfield University men's basketball will face perhaps the three toughest games of the season over the next seven day span, the results of which could go a long way toward their quest for the PSAC title.
Mansfield, currently in third-place in the PSAC East, will play three of the top four teams in the PSAC East over the next seven days after Wednesday's game against fourth-place Kutztown was postponed to Thursday because weather conditions down state.
Mansfield upset then No. 2 nationally ranked Kutztown last month in Decker Gymnasium giving the Golden Bears their first loss of the season. Kutztown (4-3 PSAC East, 17-3 overall) has lost twice more since that meeting dropping decisions to Cheyney and at Bloomsburg. Kutztown second half game with front-running East Stroudsburg (6-1 PSAC East, 19-1 overall) was also postponed by adverse weather conditions in the down state area last weekend and has been scheduled to be played at East Stroudsburg on Monday, Feb. 15. Kutztown handed East Stroudsburg is only loss of the season in a three-point loss at Kutztown last month.
Mansfield, who has dropped decisions at West Chester and a three-point loss at East Stroudsburg in the first half, opened the second half of the PSAC East season on Saturday with a disappointing home loss to Shippensburg.
Mansfield will travel to second-place Cheyney (6-2 PSAC East, 14-7), a place where the Mounties have only won once in their past four trips (2007). The Mountaineers then host once-beaten East Stroudsburg next Wednesday.
Thursday's game at Kutztown will be broadcast by Shane Wilber and can be heard live on the internet at www.GoMounties.com following the Mountaineers women's game with Kutztown at 6 p.m. That game will also be broadcast live on GoMounties.com.
2009-10 Men's Basketball Standings
2009-10 Men's Basketball Standings
School

Conf

CPct.

Overall

Pct.

Streak

East

6-1

0.857

19-1

0.950

W6

6-2

0.750

13-8

0.619

W5

5-3

0.625

14-7

0.667

L1

4-3

0.571

17-3

0.850

L1

3-5

0.375

14-7

0.667

W1

3-5

0.375

10-11

0.476

W2

2-6

0.250

8-12

0.400

L2

2-6

0.250

7-14

0.333

L4

West

7-1

0.875

18-2

0.900

L1

7-1

0.875

15-6

0.714

W7

5-3

0.625

15-6

0.714

W3

4-4

0.500

9-11

0.450

L2

3-5

0.375

6-13

0.316

W1

2-6

0.250

13-8

0.619

L3

2-6

0.250

14-9

0.609

W2

2-6

0.250

8-13

0.381

L4