RELEASE DATE: 1/07/09
FOR IMMEDIATE RELEASE: Mansfield men roll past UDC 81-65 – Tony Fannick and Ryan Callahan combine for 41 points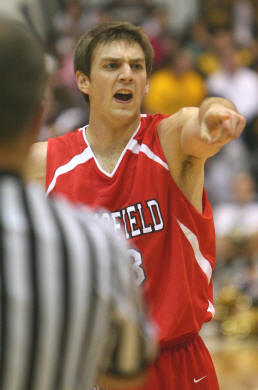 MANSFIELD – Freshman Tony Fannick and junior Ryan Callahan combined for 41 points to lead Mansfield to an 81-65 non-conference win over the District of Columbia Wednesday afternoon in Decker Gymnasium.
"It was a good effort," said head coach Rich Miller. "We're getting better defensively and got some good outside shooting especially in the first half. It certainly was a good test for us with three more tough games coming up in the next week."
Playing just their third home game of the season, the Mountaineer come out on fire taking a 18-8 led five minutes into the game on a 3-pointer by Donny Lyons. Mansfield would increase its lead to 34-14 on a free throw by Fannick with just over eight minutes remaining in the half.
Callahan was almost unstoppable outside in the first half hitting four 3-points and scoring 15 points as Mansfield took a 45-21 lead into halftime.
Mansfield led by 20 or more points for most of the second half taking a 74-50 lead on a pair of Fannick free throws with just over five minutes to play.
The win was revenge for a 71-66 loss at UDC on Dec. 20.
Fannick scored a season-high 21 points, including an 11-13 performance from the free throw line, and pulled down a team best eight rebounds while dishing out four assists. Callahan hit five 3-pointers in his 20 point performance. Chris Pender had 18 points while Yuseff Carr added 13 points, six rebounds and blocked four shots.
Kechan Myers led UDC (5-5) with a game-high 22 points.
Mansfield host Clarion this Saturday afternoon in a PSAC crossover game starting at 1 p.m. at Decker Gymnasium.