RELEASE DATE: 12/20/08
FOR IMMEDIATE RELEASE: UDC hits free throws in final minute to hold on for 71-66 win over Mansfield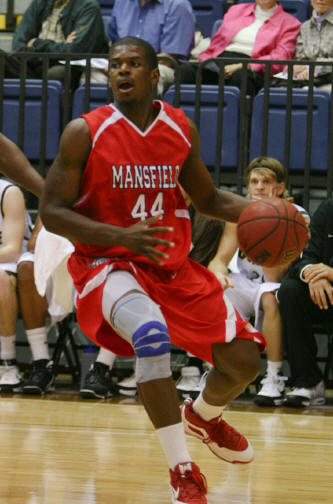 WASHINGTON, DC -- The University of the District of Columbia hit all four of their free throws in the final minute of the game to hold on for a 71-66 win over Mansfield in a non-conference game Saturday afternoon.
UDC led 30-16 with 8:22 to play in the first half before Mansfield rallied to close the gap to 35-31 at halftime. UDC hit a remarkable 61% of their shots in the first half Mansfield's 37% and the Mountaineers connected on just 3-19 3-point attempts in the game's first 20 minutes.
UDC outscored Mansfield 12-3 over the first five minutes of the second half taking a 47-34 advantage but Mansfield slowly whittled the lead down to 51-47 on a 3-pointer by Chris Pender with 11:06 to play.
The score remained tight for the remainder of the game with Mansfield trailing 69-66 on a Tony Fannick 3-pointer with 1:05 left. But UDC hit all four of their free throws and Mansfield its final five shots of the game.
Pender led the Mountaineers in scoring with 21 points with Yuseff Carr, who connected on all six of his shots from the floor, adding 18 points and seven rebounds. Ryan Callahan scored 10 points.
Tim Ellison scored a game-high 28 points to lead UDC (4-8).
Mansfield managed to hit just 8-35 3-point attempts in the game.
Mansfield falls to 4-3 on the season and is off for the holidays until traveling to Edinboro on Jan. 3.