RELEASE DATE: 12/16/08
FOR IMMEDIATE RELEASE: Pender and Carr combine for 42 points to lead Mansfield to 78-65 win over previously unbeaten Slippery Rock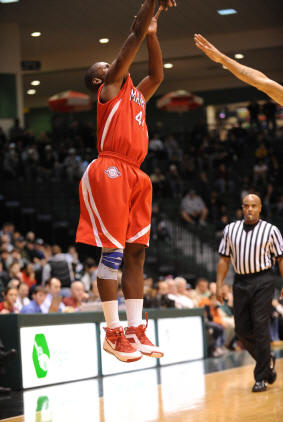 INDIANA, PA – Chris Pender and Yuseff Carr combined for 42 points to lead Mansfield to a 78-65 win over previously unbeaten Slippery Rock in the first round of the IUP Holiday Classic at Memorial Fieldhouse Tuesday night.
"That was a good win for us," said head coach Rich Miller. "We weren't as sharp on offensive as I would have liked but we had a good defensive effort especially on the defensive boards. Pender really played well and we got a nice effort from Callahan and Fannick also."
Mansfield trailed 5-0 in the first minute of the game and was behind 22-15 after the first 10 minutes before going on a 17-2 run to take a 32-24 lead on a tip-in by Cory Boone with 4:44 remaining in the first half.
Slippery Rock would cut the lead to 39-36 at halftime and pull to one point at 41-40 five minutes into the second half.
But Mansfield would get the lead into double-figures five minutes later when a Carr layup gave the Mountaineers a 54-43 advantage. Slippery Rock would never get closer than eight points for the remainder of the game.
Mansfield held Slippery Rock, which came into the game averaging a PSAC leading 102.7 point per game, to a season low 65 points. The Mountaineers won the game at the free throw line hitting 25-of-30 attempts including all eight in the first half. Mansfield also controlled the boards pulling down 47 rebounds, including 37 defensive rebounds, to Slippery Rock's 32.
Pender, a junior guard, recorded a double-double with a career-high 22 points and 11 rebounds. He connected on 4-8 three-point attempts and also added two blocks and an assist.
Carr just missed his second double-double of the season scoring 20 points and pulling down nine rebounds while also recording three steals. Also scoring in double figures for Mansfield were Ryan Callahan with 12 points and freshman Tony Fannick with 10. Callahan also pulled down a career-best nine rebounds and added four assists.
Slippery Rock, which came into the game with a 7-0 record and the program's best start since the 1960s, had three players score in double-figures led by Denell Stephens who recorded a double-double with 20 points and 11 rebounds.
Mansfield improves to 4-1 on the season and will play host IUP at 7:30 on Wednesday night.