RELEASE DATE: 11/15/08
FOR IMMEDIATE RELEASE: Mansfield men open season with 70-67 win over Seton Hill – Chris Pender scored game high 19 points – Chris Greene free throws in final 10 seconds ice game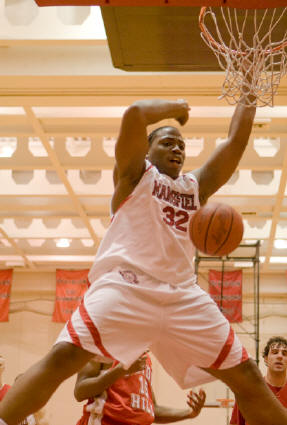 MANSFIELD – Junior Chris Pender scored a game and career-high 19 points and Chris Greene hit two free in the final 10 seconds to ice the win as Mansfield opened the 2008-09 season with a 70-67 win over Seton Hill Saturday evening in Decker Gymnasium.
"It's always good to win your opener," said head coach Rich Miller. "Chris Pender is just a smart, smart player and he showed that tonight. We've been a little banged up in the preseason. Tonight was actually the healthiest we been and hopefully we'll continue to get better."
The game was close from the onset and featured 15 ties and neither team every led by more than six points. Seton Hill held a slim at halftime and extended that lead to 52-46 on a jumper by Ivan Cosevic with 12:26 to play.
Mansfield rallied to take a 65-64 lead on a pair of free throws by Yuseff Carr with 2:50 remaining in the game and extended to margin to three points on Greene two free throws.
Seton Hill had a chance to tie the game but turned the ball over with less than two second remaining in the game.
In addition to his 19 points, Pender also pulled down a team-best seven rebounds and added four steals. Ryan Callahan came off the bench to scored 16 points and Carr added 15 points hitting 5-6 of his attempts from the floor and 5-5 from the free throw line for Mansfield.
Jordan Thomas had 16 points for Seton Hill with Cody Boone scoring 14 points and Kellen Holmes 12.
Mansfield travels to NCAA Division I Binghamton University on Monday.

Newspaper Box Score
Seton Hill vs Mansfield University
11/15/08 7:00 PM at Decker Gym

At Decker Gym

MANSFIELD UNIVERSITY 70, SETON HILL 67
SETON HILL (0-1)
Jordan Thomas 6-15 2-2 16; Cody Boone 7-21 0-1 14; Kellen Holmes 6-10 0-1
12; Ivan Cosevic 4-4 0-0 8; Alex Tomic 3-7 1-2 7; Keith Cox 0-3 5-6 5; Andy
Ostach 1-1 0-0 3; Conor Tilow 1-2 0-0 2; Stefan Vujicic 0-1 0-0 0. Totals
28-64 8-12 67.
MANSFIELD UNIVERSITY (1-0)
PENDER,Chris 6-10 3-4 19; CALLAHAN,Ryan 5-13 4-6 16; CARR,Yuseff 5-6 5-5 15;
SIMMONS,Justin 3-7 0-0 6; OWENS,Lavail 1-6 2-2 4; BOONE,Cory 1-5 0-0 2;
SMITH,Brandon 1-1 0-0 2; FANNICK,Tony 0-0 2-2 2; GREENE,Chris 0-1 2-2 2;
LUARASI,Dhimitri 1-4 0-0 2; LYONS,Donny 0-1 0-0 0. Totals 23-54 18-21 70.
Seton Hill.................... 33 34 - 67
Mansfield University.......... 31 39 - 70
3-point goals--Seton Hill 3-10 (Jordan Thomas 2-7; Andy Ostach 1-1; Kellen
Holmes 0-1; Conor Tilow 0-1), Mansfield University 6-18 (PENDER,Chris 4-6;
CALLAHAN,Ryan 2-8; OWENS,Lavail 0-2; GREENE,Chris 0-1; LYONS,Donny 0-1).
Fouled out--Seton Hill-None, Mansfield University-None. Rebounds--Seton Hill
34 (Cody Boone 11), Mansfield University 34 (PENDER,Chris 7). Assists--Seton
Hill 19 (Jordan Thomas 5), Mansfield University 16 (CARR,Yuseff 4). Total
fouls--Seton Hill 17, Mansfield University 15. Technical fouls--Seton
Hill-None, Mansfield University-None. A-773