RELEASE DATE: 3/02/09
FOR IMMEDIATE RELEASE: Mansfield comfortable with underdog role in PSAC Playoff game at Kutztown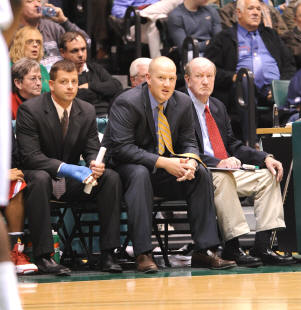 MANSFIELD – The Mansfield University men's basketball team will be the definitive underdog when they travel to Kutztown for a PSAC Quarterfinal playoff game Tuesday night at 7 p.m.
Kutztown, ranked #24 in the nation in NCAA Division II has not lost a game at Keystone Hall this season and is the #1 seed in the PSAC East.
"I'm sure we're going to be considered the underdog," said head coach Rich Miller. "We're OK with that. Kutztown has a very good team and they have everything going for them, but I think we've shown all season that this is a team that doesn't give up or give in. I'm sure you're going to see a heck of a game tomorrow night."
PSAC Quarterfinal Preview
What: PSAC Quarterfinal Playoff Game
Who's playing: Mansfield (15-11, 8-6 PSAC East) the #4 seed in the PSAC East travels to Kutztown (24-3, 13-1) the #1 seed in the PSAC East
Where and when: At Kutztown's Keystone Hall Tuesday, March 3 starting at 7 p.m.
Tickets: $7 adult, $2 students
Radio: A live broadcast of the game will streamed on the internet at www.GoMounties.com
PSAC Tournament Overview: Pairings have been set for the PSAC men's basketball tournament, which begin on Tuesday night with quarterfinal rounds being held at the sites of the higher seeds. All game times will begin at 7:00 p.m., with the exception of the game at Gannon which starts at 8:00 p.m.
In the men's tournament, East champion Kutztown will host fourth place Mansfield, who qualified for the tournament with a win over Millersville on Saturday coupled with East Stroudsburg's loss to West Chester, which gave the Mountaineers a one-game edge over the Warriors. West Chester, which finished in third place, will make the short trek to neighboring Cheyney in the 2-3 game.
In the West, champion Gannon will host Edinboro in another battle of Erie county teams. No. 3 seed IUP will make another trip to Butler County to face No. 2 seed Slippery Rock in what will be a rematch of today's regular season finale, won by Slippery Rock at home.
Tuesday's winners will advance to the semifinals on Friday. The men's semis will be played at the highest remaining seed in the West. The championship games will be contested next Saturday night.
How They Got There – The Mountaineers earned their second playoff berth in the last four years by beating Bloomsburg and Millersville in the final two games of the season last week to clinch the fourth spot in the PSAC East with a 8-6 conference record. Kutztown, ranked 23rd in the nation, won the PSAC East outright with a 13-1 record. The Golden Bears lost only to East Stroudsburg in the first conference game of the season.
PSAC Appearances – Mansfield is making its 16th appearances in the PSAC Championship since the conference established a championship tournament in 1960. The Mountaineers have captured six PSAC titles over that span (1961, 1962, 1964, 1975, 1984, 1997). They rank third in number of titles won behind Cheyney (15) and California (7).
Kutztown is appearing in its ninth PSAC Championship but have yet to win a title. The Golden Bears have made six of those appearances in the last six years advancing out of the first road just once in 2004.
The two programs have met in the opening round three times since 2004 with Mansfield winning two of the three games. Kutztown, the #3 seed upset #2 seed Mansfield 74-70 in 2004 while Mansfield, the PSAC East champions beat #4 seed Kutztown 95-90 in 2005 and 96-73 in 2006.
This Season – Kutztown won both games during the regular season beating Mansfield 85-69 at Keystone Hall on Jan. 21 and holding on for an 84-79 win at Decker Gymnasium on Feb. 11.
Mansfield at Keystone Hall – The Mountaineers have lost their last two games at Keystone, 85-69 this season and 88-75 in 2008. Mansfield beat Kutztown 73-71 in Keystone in 2007, won 95-92 in 2006 and 76-75 in 2005.
Statistically – Mansfield snapped a season long four-game losing skid with a pair of wins over Bloomsburg and Millersville this past week to earn a playoff berth. Seven of Mansfield's last 10 games have been decided by five or less points. The Mountaineers 15-11 overall winning nine of 12 games at Decker Gymnasium and are five and eight on the road. 24 of Mansfield's 26 games this season have been against NCAA Division II opponents with one game against NCAA Division I Binghamton.
Mansfield finished among the top five scoring teams in the PSAC for the sixth straight year ranking fifth in the PSAC averaging 75.8 points per game this season. Mansfield has shown improvement on defense this season ranking 11th in the 16 team PSAC in scoring defense allowing an average of 71.2 points per game.
The Mountaineers rank seventh in field goal percentage hitting 44.2% of their attempts from the floor and are also seventh in 3-point field goal percentage at 34.5%. Mansfield is third in the conference in 3-point field goals made per game (7.5).
Mansfield is the leading free throw shooting team in the PSAC this season connecting on 74.5% of its shots. The Mountaineers also rank sixth in rebounding margin but are 15th in turnover margin (-1.3) and steals 5.7) per game.
Kutztown is enjoying one of the best seasons in school history. The Golden Bears are ranked 24rd in the nation in the latest NCAA Division II poll with a 24-3 overall record. They have not lost a game at Keystone Hall this season losing only at nationally ranked Gannon, Clarion and East Stroudsburg. The Golden Bears own the PSAC's longest current winning streak after winning their last 12 games. The closest home game was an 82-76 win over Cheyney.
25 of Kutztown's 27 games have been against NCAA Division II opponents. Kutztown has been the top scoring team in the conference by far this season averaging 87.6 points per game. The Golden Bears also lead the PSAC in field goal percentage (49.5) and are 10th in scoring defense (69.6 ppg). They also lead the PSAC in 3-point field goal percentage (39.1%) and steals (10.4 spp) and turnover margin (+4.8).
The Players – The two teams feature seven of the top 28 scorers in the PSAC.
Mansfield's main offensive threat through much of the season has been sophomore forward Yuseff Carr who currently ranks 12th in the PSAC in scoring (15.3 ppg) and 9th in rebounding (7.7 rpg). He also ranks sixth in field goal percentage (53.8%)
Junior Ryan Callahan can be an explosive scorer and ranks 18th in the PSAC in scoring averaging 14.4 points per game. A dangerous inside and outside threat, Callahan ranks among the top 3-point shooters in the conference. He has also been the Mountaineers leading scorer over the past seven games averaging 16.3 points per game over that span.
Junior guard Chris Pender has started all 26 games this season averaging 12.2 points per game. Pender has also blocked 20 shots and ranks second in the PSAC in 3-point field goals per game.
Freshman Tony Fannick has started the last 15 games at forward and is averaging 10.1 points and 5.2 rebounds per game. Fannick also ranks second in the PSAC in free throw shooting hitting 87% (70-80) of his attempts.
Senior Chris Greene rounds out the starting five at point guard. Greene, who saw limited time early in the season, is averaging 8.4 points on the season and ranks fourth in the PSAC in assists-to-turnover ratio. Greene can slash to the basket but can also hit the deep ball with 26 3's on the season. Greene has averaged 12.4 points per game over the last seven games with 28 assists and 14 steals over that span.
Mansfield usually uses a 10-player rotation during the course of the game with junior Justin Simmons (4.2 ppg) playing the point. Guards Donny Lyons (3.1 ppg) and Lavail Owens (2.8 ppg) are averaging more than 10 minutes per game while forward Cory Boone (3.0 ppg) ranks among the PSAC block leaders (38). Brandon Smith spells in the inside where he has connected on 68% of his shots this season.
Kutztown has two of the top three and four of the top 23 scorers in the PSAC this season. Senior Dave Ben ranks second in the conference in scoring (21.4 ppg) and junior guard Stephen Dennis is third (20.7 ppg). The pair also ranks one and two in the PSAC in steals per game.
Ben ranks among the best 3-point shooters in the conference in both accuracy and number while Dennis is fourth in the PSAC in assists. Ben and Dennis each have more than 100 assists on the season.
Senior Andre Woodlin is averaging 15.0 points per game and is the top percentage 3-point shooter in the conference (45.9%). Sophomore Ryan Washington has been a force inside averaging 13.0 points and 8.7 rebounds per game while ranking second in the PSAC in blocked shots (57).