RELEASE DATE: 12/03/08
FOR IMMEDIATE RELEASE: Mansfield men host Penn College in final home game of Fall semester Ė Readers are Leaders honored at halftime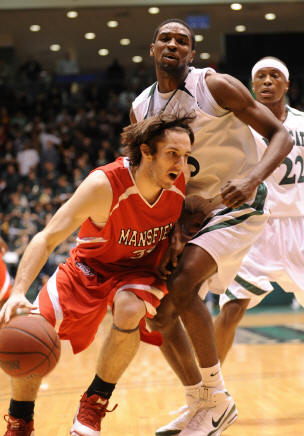 MANSFIELD Ė The Mansfield University menís basketball team will host Penn College Thursday evening in Decker Gymnasium in the Mountaineers final home game of the Fall semester. Tip off is set for 7:30 p.m.
Area elementary school students, along with their families, who participated in the Leaders are Readers Leadership program will be admitted for free and honored at halftime.
The game marks the end of an unusual early season break. The Mountaineers havenít played since dropping 80-62 decision at NCAA Division I Binghamton on Nov. 17. Mansfield, which beat Seton Hill 70-67 in the season opener at Decker Gymnasium, is 1-1 on the season.
Junior Ryan Callahan has come off the bench in both games this season to lead the team in scoring averaging 16.5 points per game. Sophomore forward Yuseff Carr has had impressive outing in both early season games averaging 15.5 points and 6.0 rebounds per game. Carr is shooting a remarkable 71% from the floor.
Junior Chris Pender ranks third on the team in scoring (9.5 ppg) while averaging a team best 6.5 boards per game.
Penn College is much improved over last season. The Wildcats are 4-3 overall and 2-0 in the PSUAC after beating PSU-Hazleton 86-79 in their last outing.
The Mountaineers will travel to Seton Hill this Saturday evening and then play away games against Slippery Rock, IUP and the District of Columbia before breaking for the Holidays