RELEASE DATE: 2/28/09
FOR IMMEDIATE RELEASE: Mansfield men rally to beat Millersville 78-74 to clinch PSAC playoff berth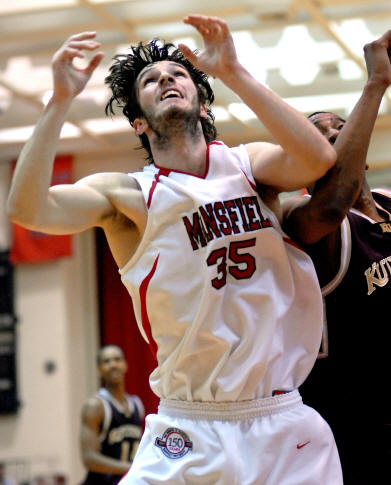 MANSFIELD -- Senior Chris Greene and junior Justin Simmons combined to score six points over the final 51 seconds breaking a 72-72 tie and lifting Mansfield to a 78-74 win over Millersville and a spot in the upcoming PSAC playoffs.
"It was an incredible effort down the stretch," said head coach Rich Miller. "We got ourselves into a difficult situation but had some key stops and hit some big shots and free throws when we really had to.
Ryan Callahan got us back into it and Chris (Pender) and Justin (Simmons) sealed the win in the last minute. It's an incredible feeling for us and was a long, hard road to earn a spot in the playoffs."
Mansfield held a 58-52 lead with just over nine minutes to play when Millersville erupted on a 16-3 run to take a 68-61 with 4:30 remaining. Millersville still held a 70-64 lead with 3:14 left when Greene hit a layup, was fouled and made the ensuing free to close to 70-67.
Callahan closed the gap to 70-69 on a pair of free throws less than a minute later and then tied the score 70-70 on a free throw with 1:47 to go. Callahan then gave Mansfield the lead on a layup thirty seconds later before Millersville's Trai Hawkins tied the score with a pair of free throws with a minute to go.
Greene connected on another layup nine second late to retake the lead at 74-72 nine seconds later and Millersville missed two 3-pointers and a free throw before Simmons hit a pair of free throws with 17 seconds remaining.
Millersville closed to 76-74 on a dunk by Makal Stibbins with five seconds to play before Simmons iced the win with a pair of free throws two seconds later.
Even with the win, Mansfield would have to wait for more than 20 minutes after the come-from-behind win to see if West Chester would beat East Stroudsburg to give the Mountaineers the fourth playoff berth.
The Mountaineer players and supporters crowded into head coach Rich Miller's office and listen to the final anxiously to the final minutes of the game which was streamed on the internet. A round of excited shots filled Decker when West Chester finally pulled out a 60-55 win.
Callahan scored a game-high 20 points to lead Mansfield with Yuseff Carr scoring 19 points. Freshman Tony Fannick added 12 points and nine rebounds
Millersville was led by Makal Stibbins with 19 points with Trai Hawkins adding 18 points.
Mansfield finished the regular season with a 15-11 overall record and 8-6 in the PSAC East. The Mountaineers will travel to Kutztown, the #1 seed from the PSAC East, this Tuesday night.