RELEASE DATE: 1/31/09
FOR IMMEDIATE RELEASE: Mansfield rallies from nine-point deficit in final six minutes to pull out 63-59 win at Millersville – Tony Fannick scores seven of game-high 18 points in final six minutes -- Mounties one game out of first in PSAC East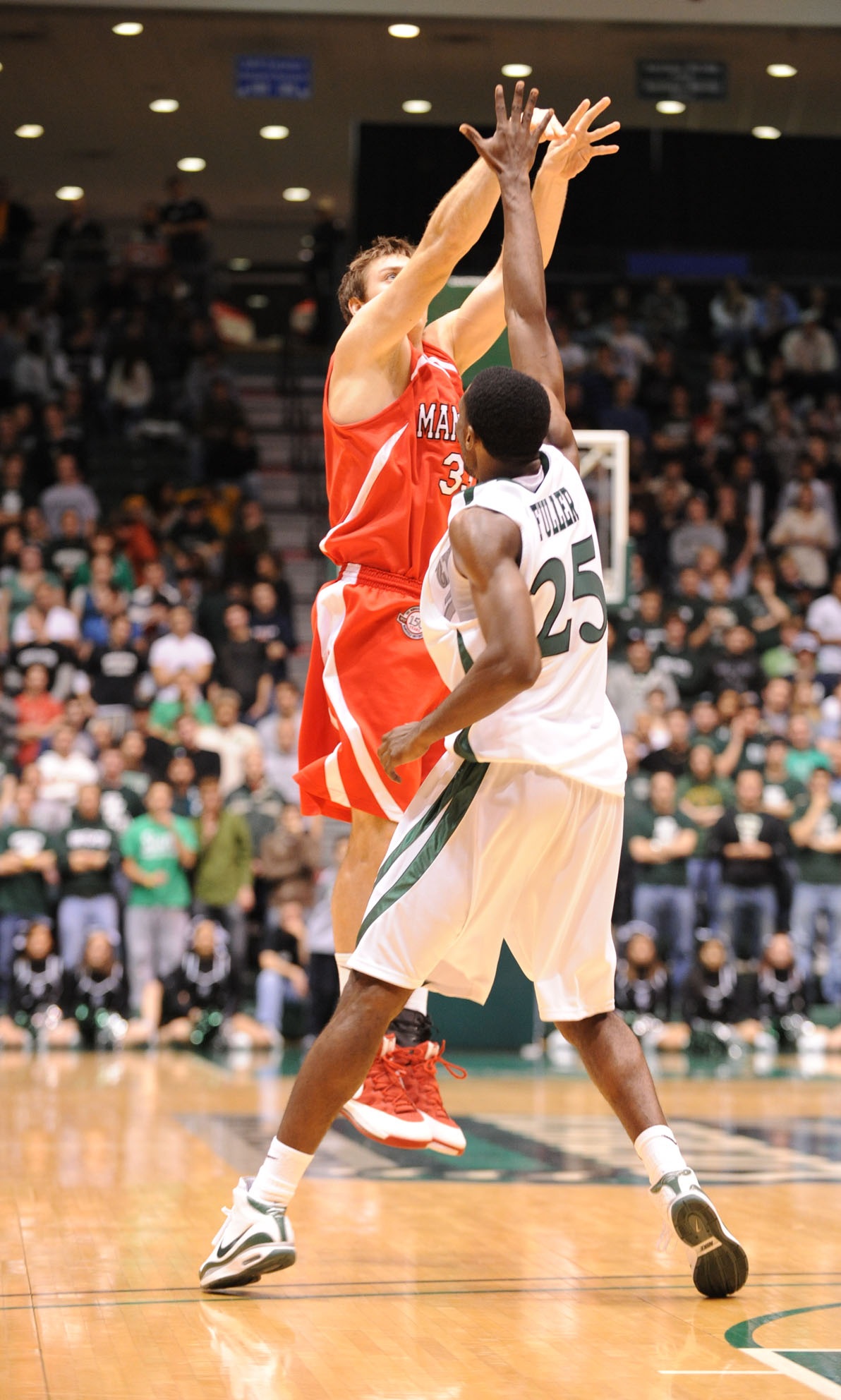 MILLERSVILLE – Tony Fannick scored a game-high 18 points and keyed a late surge to rally Mansfield to a 63-59 win over Millersville in a PSAC East contest at Pucillo Gymnasium Saturday afternoon.
"We played hard, but just couldn't get into an offense flow," said head coach Rich Miller. "It was frustrating, but we executed perfectly over the final minutes of the game and won in a place it's been very hard for us to win at."
Mansfield trailed 54-45 when Millersville's Makal Stibbins hit two free throw at thr 5:25 mark but the Mountaineers went on a late game 9-0 run starting with Chris Pender's 3-pointer cutting the lead to 55-50 at the 4:34 mark.
With 2:20 remaining, Fannick was fouled hitting a layup to tie the score at 55-55 and made the free throw to give Mansfield its first lead since early in the game. Millersville retook the lead 57-56 thirty seconds later on a layup by Palmer McDurfee before Fannick again answered with a jumper to give Mansfield a 58-57 advantage with 1:27 to go.
Millersville went up 59-58 on a layup by Brandon Widner with just over a minute to play but Mansfield took the lead for good on a layup by Yuseff Carr off a Fannick assist with 49 second remaining.
After a Millersville miss, Chris Greene was fouled with 21 second to play and made both free throws to give Mansfield a 62-59 lead. Millersville missed a 3-pointer 10 seconds later and Pender got the rebound and was fouled. Pender missed his first free throw but hit his second to give Mansfield a 63-59 lead with nine seconds in the game.
Mansfield connected on 19-25 free throws and held a 38-29 rebounding advantage in picking up its first win at Pucillo Gymnasium since the 2003-04 season.
Fannick, who also pulled down a game-high 10 rebounds to record his second double-double of the season, scored 13 of his points in the second half while Yuseff Carr, who got into foul trouble early in the second half, added 16 points and nine rebounds.
Makal Stibbins and Reggie Bates led Millersville (6-13, 0-6 PSAC East) with 16 points.
Mansfield (11-7, 4-2 PSAC East) remains one game out of first-place in the PSAC East and will wrap up the first half of division play by hosting Bloomsburg this Wednesday.