RELEASE DATE: 10/30/08
FOR IMMEDIATE RELEASE: Mansfield men picked to finish fifth in PSAC East in preseason coaches poll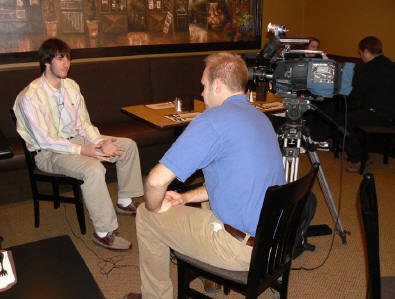 MANSFIELD – The Mansfield University men's basketball team was picked to finish fifth by the coaches in the eight-team PSAC East this year.
The PSAC East and West Preseason Coaches Poll were released today as part of the 2008-09 Pennsylvania State Athletic Conference Basketball Media Day.
Mansfield held its media day at Lamb's Creek Food and Spirits with WENY-TV36, WETM-TV18, WELM radio, the Star-Gazette and Towanda Review in attendance.
The PSAC has expanded to 16 teams this season with the addition of Gannon and Mercyhurst who will compete in the PSAC West. Shippensburg will move from the West to the PSAC East.
Mansfield is coming off a 17-10 overall record and fifth place finish in the PSAC East last season. Head coach Rich Miller returns three starters from last year's team and nine players who appeared in 22 or more games.
"I think we're going to surprise people," said Miller. "I like this team. We lost some good players to graduation but we're bringing a lot of good players back and certainly expect to be in the playoffs at the end of the season."
Mansfield has just one senior on the roster in returning starting point guard Chris Greene who averaged 9.9 points per game last season. Other starters include junior Chris Pender and sophomore Yuseff Carr.
Mansfield travels to St. Bonaventure next Friday, Nov. 7 for an exhibition game before hosting Seton Hill in the season opener on Nov. 15 followed by a road game at NCAA Division I Binghamton University on Nov. 17.
PSAC Preseason Coaches Poll Men's Basketball Poll
PSAC East

Kutztown
Millersville
East Stroudsburg
Cheyney
Mansfield
Shippensburg
West Chester
Bloomsburg
PSAC West
Gannon
California
Edinboro
IUP
Mercyhurst
Clarion
Slippery Rock
Lock Haven