RELEASE DATE: 2/11/09
FOR IMMEDIATE RELEASE: Kutztown pulls out last minute 84-79 win over Mansfield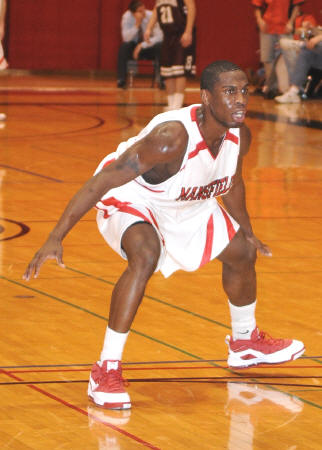 MANSFIELD – Kutztown scored seven of the game's final nine points to hold on for a 84-79 win over Mansfield in a first-place battle in the PSAC East Wednesday night at Decker Gymnasium.
The contest lived up to its pregame hype with a supercharged playoff atmosphere.
Mansfield's Chris Pender tied the game at 77-77 with a foul shot with 52 seconds to play before Stephen Dennis scored five of Kutztown's next seven points to pull the game out for the first place Golden Bears.
After trailing much of the first half, Mansfield used a 21-10 run over the last eight minutes of the half to take a 41-36 halftime advantage even though Mansfield's top two scorers, Yuseff Carr and Ryan Callahan, combined for just two first half points.
Mansfield maintained that lead through the first seven minutes of the second half before Kutztown exploded on a 11-0 run to take a 61-55 lead on a layup by Andre Woodlin at the 11:07 mark.
Mansfield trailed 75-70 with just over five minutes remaining before lay-ups by Carr and Callahan closed the gap to 75-74 a minute later.
After Mansfield tied the game on Pender's free throw with :52 to go, Dennis hit a layup and hit two free throws to give Kutztown a 81-77 lead with 25 seconds left.
Mansfield closed to 81-79 on a jumper by Chris Greene with 17 seconds left but Dennis hit 1-2 free throws to put the lead at 82-79 three seconds later.
Mansfield had a three-point attempt partially blocked and Kutztown got the rebound with two seconds remaining hitting both to ice the game.
Pender led four Mountaineers in double-figures with 16 points with Justin Simmons coming off the bench to score a season-high 14. Callahan also scored 14 points with Greene adding 12.
Dave Ben led Kutztown with 24 points while Dennis scored 22.
Mansfield will host Cheyney this Saturday afternoon.