RELEASE DATE: 12/15/08
FOR IMMEDIATE RELEASE: Mountie men face tough task at IUP Classic Tuesday and Wednesday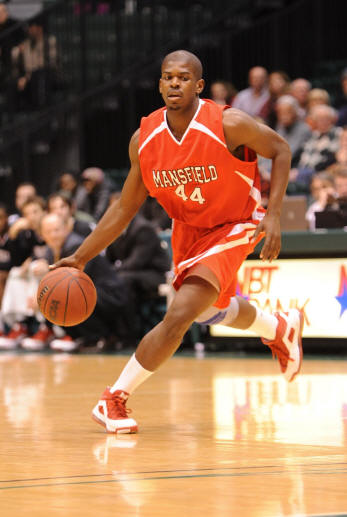 MANSFIELD – The Mansfield University men's basketball team will face a stiff challenge at the IUP Holiday Tournament this Tuesday and Wednesday evening when they square off against PSAC West foes Slippery Rock and IUP.
"Both of those team's have improved over last year," said Mountaineer head coach Rich Miller. "Slippery Rock has a whole new look and IUP is better than their PSAC playoff team last year so this will really be a stiff early season test for us."
Mansfield has played just four games this season with a pair of wins over Seton Hill and victory over Penn College to go with a road loss to NCAA Division I opponent Binghamton. The Mountaineers will be coming off a 10-day layoff for finals after recording a 74-59 win at Seton Hill on Dec. 6.
Sophomore Yuseff Carr has been impressive in the early going ranking among the conference leaders in scoring (18.8 ppg) and rebounding (7.8 rpg). Carr was the PSAC East Player of the Week last week after scoring a career-best 32-points in the win at Seton Hill.
Junior guard Ryan Callahan has come off the bench in all four games this year to average 13.3 points per game along with 6.0 rebounds. Junior Chris Pender has been the Mounties most consistent player over the early run averaging 12.8 points per game while hitting 47% (11-23) of his 3-point attempts. Pender also has a team-high eight steals.
Mansfield's biggest asset in the early going has been its depth with 11 players appearing in all four games this year. The Mountaineers rank fifth in the PSAC in team scoring averaging 80.5 points per game.
First-year head coach Kevin Reynolds has completely revamped the Rock's program with eight newcomers including seven transfers. Slippery Rock is one of six PSAC school still with an unbeaten record at 7-0. The seven wins already ties last season's victory total.
SRU tops the PSAC in scoring averaging a whopping 102.7 points per game and sports four of the top 30 scorers in the conference. The transfers have made as early an impact with senior guard Denell Stephens ranking second in the PSAC in scoring averaging 21.0 points per game. He also ranks seventh in the conference in rebounds (9.4 rpg).
Junior Michael Evans is a transfer after redshirting at Morehead State last season and ranks fifth in the PSAC in scoring averaging 20.2 ppg. Marion Brown is a sophomore transfer who averaged almost 16 points per game at Cecil Junior College last year and is second in the conference in rebounding (10.9 rpg). Senior Jamar Scales is averaging 13.6 points per game.
IUP has shown steady a vast improvement under third-year head coach Joe Lombardi who returns four starters off last year's PSAC playoff team including All-PSAC West selections Darryl Webb and Gerald Brooks. Webb and Brooks both scored 17 points in a win over Ohio Valley to help IUP improve to 4-1 on the season. Also averaging double-figures on the season are UMBC transfer Thomas Young (12.3 ppg) and redshirt freshman Julian Sanders.
Mansfield will end the 2008 portion of its schedule when the Mountaineers travel to Washington, DC to play the University of the District of Columbia on Saturday afternoon.