RELEASE DATE: 2/09/09
FOR IMMEDIATE RELEASE: Tony Fannick named PSAC East Freshman of the Week for second week in a row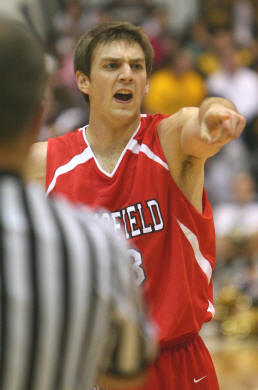 MANSFIELD -- Mansfield University standout Tony Fannick (Milton/Milton) has been named the Pennsylvania State Athletic Conference (PSAC) East Division Freshman of the Week for his outstanding performance during the week ending 2/08/09.
It marked the second consultative week and the fourth time this season Fannick has earned PSAC East Freshman of the Week honors.
Fannick helped extend Mansfield's winning streak to five games with wins over Bloomsburg and Shippensburg during the week.
The freshman forward averaged 11.5 points and 3.5 rebounds per game. He also had two steals, blocked a shot and had an assist while shooting 66% (8-12) from the floor, including 66% (2-3) of his 3-point attempts. Fannick was also a perfect 5-5 from the free throw line.
He scored 16 points in a win over Bloomsburg connecting on 5-6 from the floor including 2-2 on 3-pointers and 4-4 of his free throws with four rebounds and two steals.
For the season Fannick is averaging 10.3 points and 5.2 rebounds per game and ranks among the PSAC top free throw shooters hitting 87.7% of his attempts.
Mansfield is 13-7 overall and in second place in the PSAC East with a 6-2 conference record. The Mountaineers host first place Kutztown on Wednesday night at Decker Gymnasium.