RELEASE DATE: 1/29/09
FOR IMMEDIATE RELEASE: Mansfield men down East Stroudsburg 80-75 to move to within a game of first place in PSAC East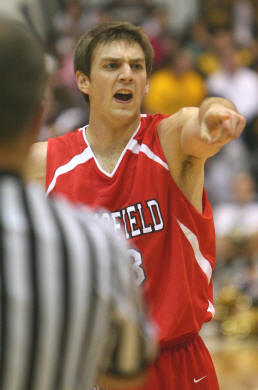 MANSFIELD – Freshman Tony Fannick scored a game-high 22 points and Chris Pender added 19 points to lead Mansfield to a 80-75 win over East Stroudsburg in a key PSAC East contest at Decker Gymnasium Thursday night.
The win knocked East Stroudsburg out of first place in the PSAC East and pulled Mansfield to within a game of division leaders Cheyney (4-1) and Kutztown (4-1).
"Everyone stepped up big tonight especially with Yuseff in foul trouble," said head coach Rich Miller. "Tony (Fannick) played a heck of a game tonight as did Chris Pender and Ryan (Callahan) was just clutch from the free throw line down the stretch."
Mansfield never trailed in the game holding a 41-33 halftime lead and extended it to 48-33 on a layup by Yuseff Carr two minutes into the second half.
But East Stroudsburg slowly chipped away, closing to 54-52 with 12 minutes to play.
Mansfield (10-7, 3-2 PSAC East) led 76-74 with 35 seconds left when Ryan Callahan hit two free throws and two more 22 seconds later to seal the win.
Fannick's 22 point performance was a season-best and he also pulled down nine rebounds while dishing out six assists. Pender hit 4 of 5 three-pointers while Carr, despite playing just 18 minutes, scored 14 points and Callahan had 13 points including 8-8 from the free throw line.
Cory Boone, while scoring just two points, had a big night with four blocked shots and four rebounds.
Mansfield connected on 25-30 free throws and knocked off a PSAC East front runner for the second straight game after beating West Chester on Saturday.
Chris Bach led East Stroudsburg (12-6, 3-2 PSAC East) with 17 points while Andy Heimback added 15 points off the bench.
Mansfield travels to Millersville on Saturday.