RELEASE DATE: 1/03/09
FOR IMMEDIATE RELEASE: #23 Edinboro rallies in second half to beat Mansfield 86-77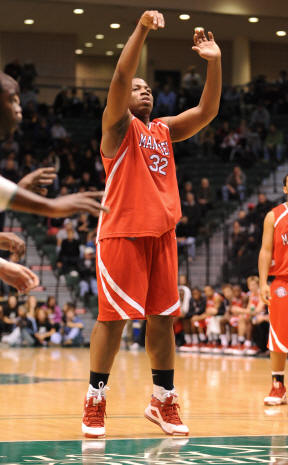 EDINBORO – Edinboro rallied from an eight-point halftime deficit to beat Mansfield 86-77 in a PSAC crossover contest Saturday afternoon at McComb Fieldhouse.
Mansfield's sophomore standout Yuseff Carr dominated the first half of play scoring 17 points and pulling down six rebounds over the game's first 20 minutes to give Mansfield a 40-32 halftime advantage.
The Mountaineers extended their lead to 47-36 on a 3-pointer by Chris Pender three minutes into the second half but Edinboro went on a furious 11-0 run over the next three minutes to tie the score 47-47 on a jumper by Joe Jones at the 13:56 mark.
Edinboro broke a 54-54 tie on a 3-pointer by Gil Cummings with just under ten minutes to play. Edinboro extended the lead to 10 points with less than four minutes to play but Mansfield pulled to 79-75 when Justin Simmons hit a layup and ensuing free throw with 57 second remaining.
But Edinboro hit seven of eight free throws over the final 47 seconds to preserve the win.
Carr was held to just four points in the second half and Edinboro outshot Mansfield 59.3% - 41.2% in the final 20 minutes.
Ryan Callahan scored 15 of his game and season high 27 points in the second half for Mansfield while Carr just missed his third double-double of the season with 21 points and nine rebounds.
Edinboro, ranked 23rd in the latest NCAA Division II poll, extended their impressive home win streak to 29 games. The Fighting Scots were led by Jones and Cummings who both scored 25 points.
Mansfield travels to Lock Haven Sunday for a 3 p.m. start.