RELEASE DATE: 1/02/09
FOR IMMEDIATE RELEASE: Mountaineer womenís basketball opens New Year with road trip to Edinboro and Lock Haven this weekend Ė Sundayís game to be streamed live at GoMountie.com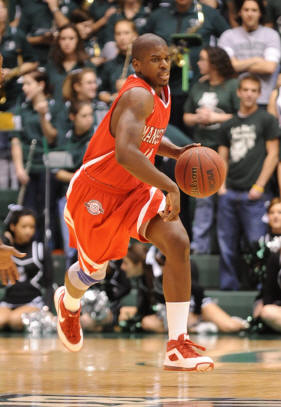 MANSFIELD Ė The Mansfield University menís basketball team will play its first games in 2009 during a two-day road trip to PSAC West foes Edinboro and Lock Haven this Saturday and Sunday.
Sundayís game at Lock Haven will be broadcast will be streamed live at GoMounties.com by ESPN 1050/104.1 in Williamsport starting at 3 p.m.
The Mountaineers have not played since a trip to the University of the District of Columbia on Dec. 20.
The men (4-3), who havenít played a home game since beating Penn College on Dec. 4, will wrap a tough six-game stretch of away contest this weekend at Edinboro and Lock Haven.
The normally high-powered Mountaineer offense was held to less than 70 points for the only times this season in back-to- back losses at IUP and UDC in their last two outings.
In the first seven games of the season the Mountaineers are averaging 76.3 points per game while holding opponents to 67.6 points per outing. Mansfield hasnít been able to put tighter a consistent shooting effort so far this season ranking 11th in the conference in field goal percentage (43.8%) and 12th in 3-point field goal percentage (30.5%).
The same canít be said about sophomore Yuseff Carr who ranks seventh in the PSAC in scoring (18.7 ppg) and fourth in the conference if field goal percentage (64.9%). Carr also ranks among top ten in the PSAC in rebounding (8.1 rpg) and is among the top free throw shooters (79.5%).
Junior Chris Pender ranks among the top 20 scorers in the PSAC averaging 14.4 points per game and tops the conference in 3-pointers a game (3.0) while ranking eight in 3-point field goal percentage (42%).
Junior Ryan Callahan is averaging 12.3 points per game while freshman Tony Fannick have been a strong presence off the bench averaging 7.7 points per game.
Edinboro, ranked 23rd in the nation in the latest NABC Division II Top 25 poll, opened the season with eight straight wins before suffering a 85-83 setback at Alderson-Broaddus Tuesday evening. It was the best start for the Fighting Scots since the 1989-90 season. They currently own a 27 game win streak at McComb Field House.
Edinboro has the PSACís leading scorer in senior Joe Jones who is averaging 23.3 points per game so far this season. Senior Gil Cummings is averaging 13.1 points per game while Vlad Kovalevsky has come off the bench to average 9.9 points.
Lock Haven is 2-6 on the season but is an improving team. The Bald Eagles have played very well at home with wins over Wilmington (83-71) and West Chester (70-68). They dropped a 76-75 decision to Shippensburg is their only other game at Thomas Fieldhouse.
Senior Billy Arre is the most prolific scorer in school history and brings a 17.9 points per game averaging into this weekendís games. Junior Christian Warren ranks second in the conference in field goal percentage (65.4%) while averaging 10.5 points per game while Eric Brennan averages 12.1 points per game.
Mansfield will return to the friendly confines of Decker Gymnasium for the first time in more than a month when the Mountaineers host UDC in a 5 p.m. start this Wednesday.