RELEASE DATE: 2/14/09
FOR IMMEDIATE RELEASE: Furious Mansfield rally falls just short in 67-64 loss to Cheyney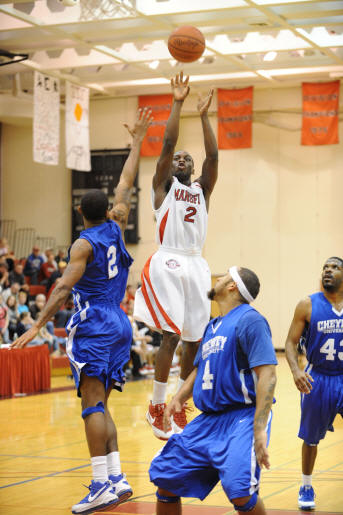 MANSFIELD Ė Mansfield rallied from a 20 point second half deficit to close to 65-64 with just under a minute to play, but Cheyney held on for a 67-64 PSAC East win at Decker Gymnasium Saturday afternoon.
It also marked Senior Day with Mansfield sole senior Chris Greene honored in pregame ceremonies.
Mansfield (13-9, 6-4 PSAC East) just couldnít get on track offensively early in the game trailing 16-6 after the first seven minutes and 45-29 at halftime.
Things didnít get much better to start the second half with Cheyney (15-6, 8-2 PSAC East) extending its lead to 57-37 five minutes into the half.
But Mansfield didnít give up and slowly chipped away cutting the lead to 59-49 on a 3-pointer by senior Chris Greene with 9:02 to play. Mansfield continued to close the gap using an 9-2 run over the next four minutes to pull to 61-58 on a 3-pointer by Chris Pender.
A jumper by Justin Simmons made it a one-point game at 63-62 with 2:46 to go. Cheyney went up 65-62 moments later on a jumper by Kevin Presbery but Mansfield answered on a layup by Ryan Callahan to trail 65-64.
Mansfield struggled to get off a clean shot in the waning moments missing a couple of 3-pointers, including one at the buzzer, after Cheyney had taken a 67-64 on a jumper by Tyrone Simth with 18 seconds left.
Yuseff Carr had a double-double with a game high 19 points and 11 rebounds to lead Mansfield. Justin Simmons came off the bench to score 12 points while Greene and Chris Pender each scored eight points.
Smith led Cheyney (15-6, 8-2 PSAC East) with 16 points with Dominique Curry adding 15 points.
The loss dropped Mansfield into a two-way tie for third place in the PSAC with West Chester while East Stroudsburg is one game back at 5-5.
Mansfield travels to East Stroudsburg on Wednesday evening.