RELEASE DATE: 1/17/09
FOR IMMEDIATE RELEASE: Cheyney holds on for 72-65 win over Mansfield men in PSAC East game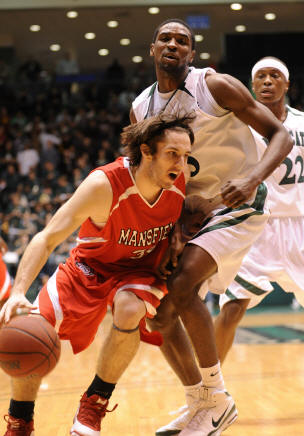 CHEYNEY – Ryan Callahan scored a game-high 22 points and Mansfield hung tough, but Cheyney held on for a 72-65 win in a PSAC East contest at Cope Hall Saturday afternoon.
Cheyney held a 17-16 lead 10 minutes into the game going on a 17-7 run over the next seven minutes to take a 36-25 lead with 2:47 remaining in the first half.
Mansfield managed to cut the score to 40-34 at halftime on a Chris Greene 3-pointer at the buzzer.
Callahan kept Mansfield in the game early scoring 15 of his 22 points in the first half including hitting 10-13 free throws.
Mansfield came out strong in the second half going on a 10-2 run to take a 44-42 advantage on a Callahan free throw five minutes into the second half.
Cheyney retook the lead at 49-48 with 11:18 remaining before going on 14-0 run keyed by eight points by Dominique Curry to take a 63-48 lead with just over six minutes to play.
But Mansfield whittled away closing the gap to 69-63 on a Callahan free throw with 26 seconds remaining.
Mansfield shot just 29% from the floor in the second half and committed 20 turnovers, the second most in a game this season.
Yuseff Carr and Greene each scored 10 points for Mansfield with Carr adding eight rebounds.
Curry led four Cheyney players in double figures with 19 points and just missed a double-double with nine rebounds. Cheyney did not make a 3-point field goal in eight tries in the game.
Mansfield falls to 8-6 overall and 1-1 in PSAC East play. The Mountaineers travel to Kutztown this Wednesday.