RELEASE DATE: 12/06/08
FOR IMMEDIATE RELEASE: Yuseff Carr dominates in rematch with Seton Hill to lead the Mounties to a 74-59 win -- Mounties improve to 3-1 on the season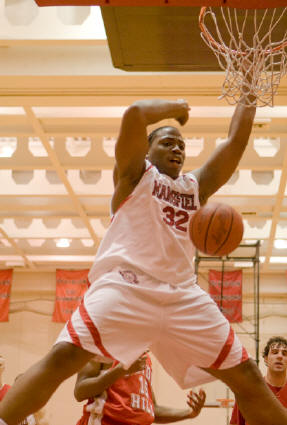 GREENSBURG -- Yuseff Carr scored a career-high 32 points to lead Mansfield to a 74-59 win in a non-conference contest at Seton Hill University Saturday night.
Seton Hill took a 10-3 lead in the first four minutes before Mansfield came storming back on a 10-2 run keyed by five points from Chris Pender to take the lead a keep if for the rest of the game.
Mansfield held a 37-32 halftime advantage and would increase the lead to 64-48 on a lay up by Tony Fannick with eight minutes to play.
Carr hit 13-21 from the floor and just missed a double-double with nine rebounds. Pender followed suit with 15 points of his own while Fannick contributed a season-high 11 points. Ryan Callahan led the game with 12 rebounds. Chris Greene dished out a career high 11 rebounds.
The Mountaineers will be in action again when the travel to IUP for the classic. Their first game on December 16 is against Slippery Rock and the next day they face IUP.


Newspaper Box Score
Mansfield University vs Seton Hill
12/6/08 7 PM at Greensburg, PA (Salvitti Gym)
At Greensburg, PA (Salvitti Gym)
MANSFIELD UNIVERSITY 74, SETON HILL 59
MANSFIELD UNIVERSITY (3-1)
CARR,Yuseff 13-21 6-7 32; PENDER,Chris 6-10 0-1 15; FANNICK,Tony 5-9 0-0 11;
OWENS,Lavail 2-4 0-0 4; CALLAHAN,Ryan 1-3 1-2 4; LYONS,Donny 1-8 2-2 4;
SIMMONS,Justin 1-4 0-0 2; GREENE,Chris 0-4 2-2 2; SMITH,Brandon 0-1 0-0 0;
BOONE,Cory 0-2 0-0 0; NANCE,J.P 0-0 0-0 0; OLIVER, Dom 0-0 0-0 0;
SMITH,Kevin 0-0 0-0 0; LUARASI,Dhimitri 0-1 0-0 0. Totals 29-67 11-14 74.
SETON HILL (1-4)
Keith Cox 3-11 5-8 11; Jordan Thomas 5-16 0-0 10; Cody Boone 4-11 1-1 9;
Chris Giles 3-5 3-4 9; Conor Tilow 3-6 0-0 8; Drazen Lakic 3-3 2-2 8;
Emmanuel Jackson 2-11 0-0 4; Alex Tomic 0-0 0-0 0; Stefan Vujicic 0-1 0-0 0;
Andy Lonigro 0-1 0-0 0. Totals 23-65 11-15 59.
Mansfield University.......... 37 37 - 74
Seton Hill.................... 32 27 - 59
3-point goals--Mansfield University 5-18 (PENDER,Chris 3-6; FANNICK,Tony
1-4; CALLAHAN,Ryan 1-3; GREENE,Chris 0-2; LYONS,Donny 0-1; OWENS,Lavail 0-1;
CARR,Yuseff 0-1), Seton Hill 2-9 (Conor Tilow 2-4; Jordan Thomas 0-1;
Emmanuel Jackson 0-2; Stefan Vujicic 0-1; Keith Cox 0-1). Fouled
out--Mansfield University-None, Seton Hill-Cody Boone. Rebounds--Mansfield
University 46 (CALLAHAN,Ryan 12), Seton Hill 38 (Cody Boone 7; Keith Cox 7).
Assists--Mansfield University 20 (GREENE,Chris 11), Seton Hill 10 (Jordan
Thomas 3). Total fouls--Mansfield University 15, Seton Hill 13. Technical
fouls--Mansfield University-None, Seton Hill-None. A-125