RELEASE DATE: 02/04/09
FOR IMMEDIATE RELEASE: Mansfield men dominate Bloomsburg 88-58 in conference play to improve PSAC record to 5-2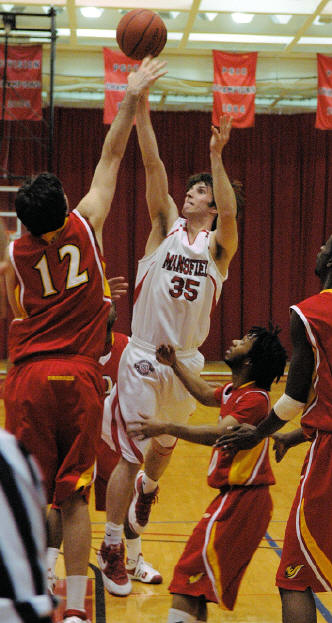 MANSFIELD – Ryan Callahan opened up the Mountaineers' scoring with 15 points in just the first half as he led Mansfield to a PSAC win over Bloomsburg Wednesday night at Decker Gymnasium.
In pre-game warm ups, Mansfield was charged a technical foul for dunking during warm ups. Bloomsburg sent Jesse Betar to the line to shoot two free throws before the game had even tipped off. Betar missed both free throws on the technical foul charge.
Though Bloomsburg missed the first two free throws, Mansfield's Tony Fannick earned the first two points of the game off his free throws after being fouled by Bryson Mills.
After getting the first two points of the game, Mansfield never looked back as they steadily increased their lead to 21 points off a three pointer by Callahan. The 21-point deficit was the highest in the first half.
Mansfield held Bloomsburg to 32.1% on field goals, 25.0% on three pointers and Bloomsburg shot 55.6% from the line.
Mansfield hit 55.6% of their field goals, 41.7% of their three pointers and 75.0% from the line.
Mansfield finished the half with a lead of 44-25.
The second half story would be similar as Mansfield tacked on another 44 points with at one moment being ahead by 33 points after a layup by Brandon Smith.
Mansfield ended the game with 60.4% on field goals, 52.2% on three pointers and 75.0% on free throws.
Bloomsburg's top scorer was Mills with 14 points and Betar with 13 points.
Callahan topped the game's high score with 20 points while Fannick and Chris Pender added another 16 points each. Yuseff Carr had the game high 11 rebounds, Lavail Owens had the game high on assist with five and Cory Boone had the game high on blocks with three.
Mansfield travels to Shippensburg University on Saturday for a 3 p.m. PSAC matchup.