RELEASE DATE: 2/25/09
FOR IMMEDIATE RELEASE: Mountie men keep playoff hopes alive with win over Bloomsburg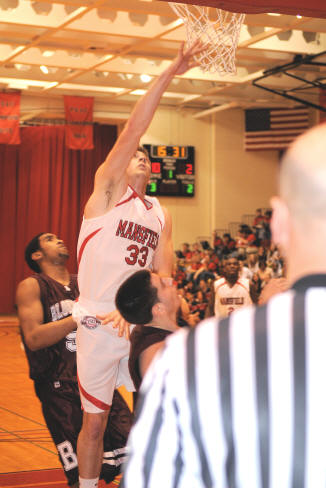 BLOOMSBURG – Tony Fannick and Ryan Callahan combined for 41 points to lead Mansfield to a key 82-68 win over Bloomsburg Wednesday night.
"We did what we needed to do," said head coach Rich Miller. "We won a game we had to win and played well for the most part in doing it. Tony Fannick had a great game and it's good to see that from him as well as from Ryan Callahan and Chris Greene."
"We been through this before where the last game of the regular season is the most important game of the year and I'm sure we will be ready for that challenge."
Mansfield's win keeps the Mountaineers in a tie with East Stroudsburg fourth and final PSAC playoff spot after West Chester beat Shippensburg and East Stroudsburg held off Millersville. Mansfield must now beat Millersville in the season final on Saturday at Decker Gymnasium and get help from West Chester in its game with East Stroudsburg.
Mansfield led 24-22 with five minutes to play in the first half before closing out on a 9-3 run to take a 35-25 lead into halftime.
The Mountaineers were never really threatened in the second half taking 67-49 lead on a layup by Yuseff Carr with eight minutes to play.
Fannick scored a game high 21 points and pulled down five rebounds while Ryan Callahan had 20 points. Chris Greene scored 17 points including a 4-5 performance on 3-point attempts.
Jesse Betar led Bloomsburg with 18 points.
The biggest game of the year for the Mountaineers will be the last home game of the season when they host Millersville this Saturday at Decker Gymnasium. Free tickets are available at any Mansfield Area Chamber of Commerce member.