RELEASE DATE: 11/17/08
FOR IMMEDIATE RELEASE: Mounties men travel to NCAA Division I Binghamton tonight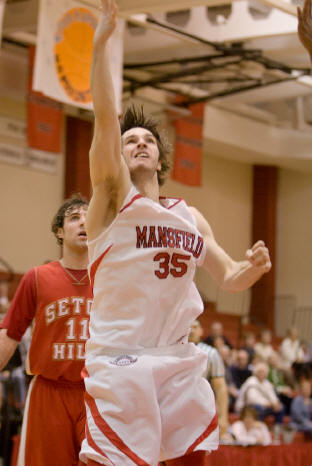 MANSFIELD – The Mansfield University men's basketball team will hit the road for the first time this season when they travel to NCAA Division I Binghamton University tonight.
Tip off is set for 7 p.m. at Events Center (5,142). The game will be broadcast live on WNTE 89.5 FM with the broadcast also streamed on the internet at www.GoMounties.com.
The Mountaineers are coming off a thrilling 70-67 victory over Seton Hill University in the season opener at Decker Gymnasium Saturday evening. Junior Chris Pender led three players in double-figures in that game with a game and career-high 19 points. He also pulled down seven rebounds and recorded four steals.
Junior Ryan Callahan came off the bench to score 16 points while sophomore power-forward Yuseff Carr scored 15 points while dishing out a team-best four assists.
It will be the season opener for Binghamton. The Bearcats finished with a 14-16 overall record last season including a 9-7 mark in the American East Conference.
Binghamton defeated Buffalo State in an Exhibition game on Friday by the score of 102-64, Six players scored in double-figures in the exhibition led by D.J. Rivera's 21 point effort. Rivera is a junior transfer from St. Joseph's University.
It marks the second time in three years Mansfield has played at the Events Center. The Mountaineers played an exhibition game in 2006-07.
It marks the second NCAA Division I opponent the Mountaineers have faced on the road in just over two weeks after traveling to St. Bonaventure for a preseason exhibition earlier in the month.