RELEASE DATE: 11/06/07
FOR IMMEDIATE RELEASE: Callahan scores game high 27 to lead Mansfield past York in preseason exhibition game Monday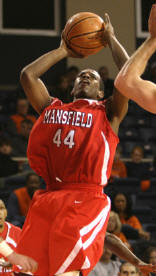 MANSFIELD – Ryan Callahan scored a game high 27 points to lead four Mountaineers in double figures in an 86-81 win at York College in a preseason exhibition game Monday night.
Callahan scored 18 points in the second half to help Mansfield erase a 35-30 halftime deficit he connected on 1-18 from the floor including 3-5 on 3-pointer attempts and 4-5 free throws.
Mansfield took the lead for good when Kevin Hill hit a 3-pointer with 6:04 to play giving the Mountaineers a 68-66 lead.
Chris Greene added 18 points while dishing out four assist. Hill and Brandon Lawley each scored 13 points.
The Mountaineers will open the 2007-08 season when they host LeMoyne on Nov. 15.
Official Basketball Box Score
Mansfield vs York (Pa.)
11/5/07 7:00 pm at Charles Wolf Gymnasium - York, PA
--------------------------------------------------------------------------------
VISITORS: Mansfield
TOT-FG 3-PT REBOUNDS
## Player Name FG-FGA FG-FGA FT-FTA OF DE TOT PF TP A TO BLK S MIN
15 Chris Greene........ * 5-11 0-2 8-10 2 2 4 4 18 4 6 0 1 37
32 Brandon Lawley...... * 6-9 0-1 1-3 2 4 6 4 13 1 1 0 1 25
35 Ryan Callahan....... * 10-18 3-5 4-5 2 2 4 4 27 2 2 0 5 28
44 Chris Pender........ * 1-5 0-2 1-2 0 5 5 3 3 5 1 1 2 24
50 Brandon Smith....... * 1-3 0-0 1-2 3 0 3 1 3 0 1 1 1 10
00 Yuseff Carr......... 2-4 0-0 0-0 1 3 4 4 4 1 2 0 0 13
01 Duane Oluwadare..... 0-0 0-0 0-0 0 0 0 2 0 0 1 0 0 2
20 Seth Cornell........ 0-0 0-0 0-0 0 0 0 0 0 0 0 0 0 3
23 Kevin Hill.......... 4-10 3-7 2-2 0 3 3 0 13 0 1 0 1 21
24 Cory Boone.......... 0-0 0-0 0-0 0 1 1 2 0 1 2 0 1 16
30 Lavail Owens........ 0-3 0-2 0-0 0 1 1 0 0 1 3 0 0 14
42 Dhimitri Luarasi.... 2-2 0-0 1-2 2 2 4 3 5 0 1 1 0 7
TEAM................ 1 4 5
Totals.............. 31-65 6-19 18-26 13 27 40 27 86 15 21 3 12 200
TOTAL FG% 1st Half: 13-29 44.8% 2nd Half: 18-36 50.0% Game: 47.7% DEADB
3-Pt. FG% 1st Half: 1-8 12.5% 2nd Half: 5-11 45.5% Game: 31.6% REBS
F Throw % 1st Half: 3-4 75.0% 2nd Half: 15-22 68.2% Game: 69.2% 4
--------------------------------------------------------------------------------
HOME TEAM: York (Pa.)
TOT-FG 3-PT REBOUNDS
## Player Name FG-FGA FG-FGA FT-FTA OF DE TOT PF TP A TO BLK S MIN
22 Nate Lankford....... * 2-6 0-3 2-2 3 5 8 4 6 2 4 0 1 28
25 Nick Brady.......... * 8-12 3-7 4-4 0 3 3 3 23 2 2 0 2 26
31 Chad McGowan........ * 8-13 0-1 6-8 4 2 6 3 22 3 4 0 1 28
40 Levi Winters........ * 2-11 1-3 0-1 1 3 4 4 5 3 3 1 3 30
45 Pat Kelley.......... * 3-7 0-1 5-10 2 6 8 3 11 3 3 1 1 34
10 Matt Foley.......... 0-2 0-2 0-0 0 0 0 0 0 0 1 0 0 8
30 Bennett Foelber..... 0-0 0-0 0-0 0 1 1 1 0 0 0 0 0 5
32 Jeremy Keefer....... 2-8 0-0 2-3 1 2 3 1 6 2 1 1 1 18
50 Dylan Hoffman....... 1-1 0-0 0-0 0 1 1 2 2 1 2 0 1 13
54 Chris Folland....... 3-4 0-0 0-0 1 2 3 0 6 1 2 0 0 10
TEAM................ 3 3
Totals.............. 29-64 4-17 19-28 15 25 40 21 81 17 22 3 10 200
TOTAL FG% 1st Half: 13-32 40.6% 2nd Half: 16-32 50.0% Game: 45.3% DEADB
3-Pt. FG% 1st Half: 2-9 22.2% 2nd Half: 2-8 25.0% Game: 23.5% REBS
F Throw % 1st Half: 7-9 77.8% 2nd Half: 12-19 63.2% Game: 67.9% 2