RELEASE DATE: 2/02/08
FOR IMMEDIATE RELEASE: Mansfield men outscore West Chester 12-2 in overtime to pull out 79-69 win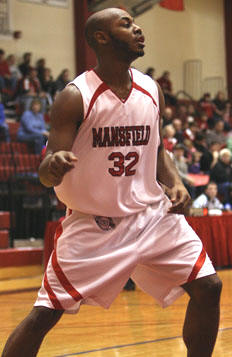 MANSFIELD –Mansfield scored the first ten points in overtime and Brandon Lawley had a double-double with 17 points and 12 rebounds to lift Mansfield to a 79-69 win over West Chester in a PSAC East game Saturday afternoon in Decker Gymnasium.
"Obviously we would rather win in regulation," said head coach Rich Miller whose Mountaineers are 4-0 in overtime this season. "But we've done pretty well in overtime. I was pleased with our defensive effort today, especially in the first half and Brandon Lawley had a huge game for us."
West Chester took its first lead of the game at 65-63 on a jumper by Kehinde Roberts with 3:27 to play in regulation. Chris Greene put Mansfield back on top 66-65 with a 3-pointer with 2:08 to go and the Mountaineers held a 67-65 lead after Chris Pender hit a free throw with 20 seconds left.
But Roberts would send the game into overtime on a layup with three seconds left.
Greene hit a layup and free throw to start overtime and the Mountaineers ran off the first ten points to earned their second straight PSAC East win and improve to 2-3 in the conference with one game remaining in the first half.
The Mountaineers played very well defensively early holding West Chester without a field goal for the first eight minutes of the game and jumping off to a 13-1 lead.
West Chester got back into the game on the strength of its free throw shooting scoring nine of its first 16 points from the free throw line to close to 20-16 at the 8:34 mark of the first half.
Mansfield held a 37-28 halftime lead and led by as much as 41-28 early in the second before West Chester managed to close the gap.
The game featured 50 fouls and 55 free throws. Mansfield recorded 20 steals, the Mountaineers second highest total in a game this season.
It also marked the fourth overtime win at Decker this season and the third in the Mountaineers last four home games.
Kevin Hill scored a team-high 18 points for Mansfield while Lawley recorded his third double-double in the last four games. Chris Greened added 12 points along with eight steals and five assists.
Kenneth St. George led West Chester (10-9, 2-3) with 20 points.
Mansfield ends the first half of PSAC East play at Bloomsburg on Wednesday.
Newspaper Box Score
West Chester University vs Mansfield University
02-02-08 3:00 pm at Decker Gymnsasium
At Decker Gymnsasium
MANSFIELD UNIVERSITY 79, WEST CHESTER UNIVERSITY 69
WEST CHESTER UNIVERSITY (9-9 (1-3))
ST. GEORGE, Kenneth 7-15 3-4 20; ROBERTS, Kehinde 5-9 3-4 14; GREENWOOD,
Lenwood 4-9 5-9 13; SMITH, Aaron 2-7 4-4 8; WHITE, Roger 2-7 0-0 5;
GALLAGHER, Kevin 1-3 0-0 2; SCOTT, Sam 1-3 0-0 2; McGHEE, Isaiah 0-1 1-2 1;
CALDWELL, Gerald 0-1 0-0 0. Totals 22-55 20-27 69.
MANSFIELD UNIVERSITY (14-6 (2-3))
HILL, Kevin 5-14 6-6 18; LAWLEY, Brandon 7-13 3-5 17; GREENE, Chris 4-16 3-5
12; PENDER, Chris 2-5 2-3 7; OWENS, Lavail 3-5 0-0 7; HAMPTON, John 1-5 3-4
6; CALLAHAN, Ryan 1-6 1-2 4; LUARASI, Dhimitri 1-1 0-0 2; HENDERSON, Armen
1-2 0-0 2; NORRIS, Rodney 1-1 0-0 2; CARR, Yuseff 0-2 2-2 2; BOONE, Cory 0-2
0-0 0; CORNELL, Seth 0-1 0-0 0; SMITH, Brandon 0-1 0-0 0. Totals 26-74 20-28
79.
West Chester University....... 28 39 2 - 69
Mansfield University.......... 37 30 12 - 79
3-point goals-West Chester University 5-15 (ST. GEORGE, Kenneth 3-6; WHITE,
Roger 1-4; ROBERTS, Kehinde 1-2; SMITH, Aaron 0-2; GREENWOOD, Lenwood 0-1),
Mansfield University 7-32 (HILL, Kevin 2-11; HAMPTON, John 1-4; OWENS,
Lavail 1-2; PENDER, Chris 1-2; GREENE, Chris 1-7; CALLAHAN, Ryan 1-4;
CORNELL, Seth 0-1; HENDERSON, Armen 0-1). Fouled out--West Chester
University-ROBERTS, Kehinde; ST. GEORGE, Kenneth, Mansfield
University-HAMPTON, John. Rebounds-West Chester University 39 (GREENWOOD,
Lenwood 8; ROBERTS, Kehinde 8), Mansfield University 49 (LAWLEY, Brandon
12). Assists-West Chester University 8 (SMITH, Aaron 3), Mansfield
University 17 (GREENE, Chris 5). Total fouls-West Chester University 25,
Mansfield University 25. A-883