1/13/08
FOR IMMEDIATE RELEASE: Luarasi, Hill lead Mansfield to win over Slippery Rock -- Mounties win PSAC high 11th game of the season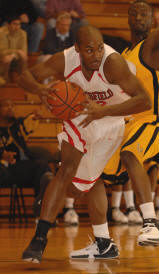 SLIPPERY ROCK -- Dhimitri Luarasi and Kevin Hill scored 15 points each to lead Mansfield to a 77-64 win over Slippery Rock in a PSAC crossover contest Sunday afternoon.
The two teams played each other tough in a first half that featured seven ties and numerous lead changes.
Mansfield led 22-16 twelve minutes into the game on a jumper and free throw by Chris Greene before Slippery Rock rallied to take a 28-27 lead on a 3-pointer by Matt Schaefer with 2:38 remaining before halftime.
Brandon Lawley's layup with 26 second to go gave the Mountaineers a 35-33 advantage at intermission.
Mansfield would steadily pull away in the second half taking a 58-47 lead on a Lavail Owens 3-pointer with 11 minutes to play and the Mountaineers would never be threatened again.
Greene scored 13 points and dished out five assists while Lawley added 11 points and seven rebounds. Luarasi recorded career-high's in points and rebounds (7).
Jamar Scales led Slippery Rock (2-12) with 14 points.
Mansfield (11-3) opens the PSAC East season at Kutztown on Wednesday.