RELEASE DATE: 11/26/07
FOR IMMEDIATE RELEASE: Callahan scores 28 to lead Mansfield to 78-74 overtime win over Seton Hill – Mansfield improves to 4-0 on season
MANSFIELD – Ryan Callahan scored a game-high 28 points including four points in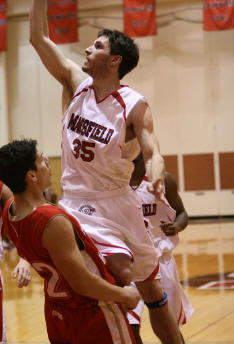 overtime to lead Mansfield to a 78-74 overtime win over Seton Hill Monday evening in Decker Gymnasium.
"Ryan kept us in it and then helped seal the win," said head coach Rich Miller. "He was a catalyst out there tonight and made a lot of things happen."
It marks the first time the Mountaineers have opened a season at 4-0 since the 2004 season when Mansfield finished 21-7.
The game was tight from the start with no team leading by more than eight points throughout the contest.
Mansfield held a slim 28-26 lead at halftime and trailed 66-62 with 1:43 left in regulation before Kevin Hill hit a jumper in the middle and Callahan added a free throw to cut the lead to two points.
Lavail Owens was fouled on a drive with 17 seconds remaining, hitting both shots to tie the score and Seton Hill missed a shot with three seconds left to send the game into overtime.
Both team struggled to make a basket in overtime with Callahan hitting four free throws and Owens two. Seton Hill didn't score a field goal until Jordan Thomas hit a 3-pointer with 12 seconds to go fore Owens put the ga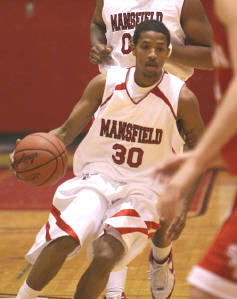 me out of reach hitting two clutch free throws with three second left.
"Lavail really did a nice job for us," said Miller. "He's not really a point guard but he played that position almost the whole second half because Chris (Geene) was out. He showed a lot of composure out there, especially hitting those clutch free throws."
Callahan went 7-12 from the floor and 12-15 from the line for his 28 points. He also added six rebounds and three assists. Hill, who scored 47 points against the same team nine days ago, was held to 13 points. Owens also scored 13 points.
The game also featured twin brothers on opposite teams. Mansfield's Cory Boone score just three points but pulled down 13 rebounds. His brother Cody pulled down 15 rebounds while scoring give points. It was a big day for the twins who became first-time uncles before the game.
Jordan Thomas topped Seton Hill (0-3) with 19 points.
Mansfield improves to 4-0 on the season and will travel to Clarion on Saturday.
Newspaper Box Score
Seton Hill vs Mansfield University
11-26-07 7:00 PM at Decker Gymnasium
At Decker Gymnasium
MANSFIELD UNIVERSITY 78, SETON HILL 74
SETON HILL (0-3)
Jordan Thomas 7-19 3-6 19; Alex Tomic 5-7 2-2 13; Stefan Vujacic 3-5 2-2 10;
Emmanuel Jackson 3-4 0-0 8; Mateja Dicic 3-6 1-2 7; Igor Dutina 1-4 4-4 6;
Cody Boone 2-12 1-4 5; Matt Hewson 1-5 1-2 3; Marc Rozanski 1-2 0-0 2;
Kellen Holmes 0-1 1-2 1; Asa Braxton 0-1 0-0 0. Totals 26-66 15-24 74.
MANSFIELD UNIVERSITY (4-0)
CALLAHAN, Ryan 7-12 12-15 28; HILL, Kevin 4-9 3-4 13; OWENS, Lavail 3-5 7-8
13; HAMPTON, John 2-4 2-3 6; PENDER, Chris 1-7 2-2 4; LAWLEY, Brandon 2-8
0-2 4; BOONE, Cory 1-5 1-4 3; CORNELL, Seth 1-2 1-2 3; CARR, Yuseff 1-6 0-0
2; LUARASI, Dhimitri 1-5 0-1 2; SMITH, Brandon 0-1 0-0 0. Totals 23-64 28-41
78.
Seton Hill.................... 26 41 7 - 74
Mansfield University.......... 28 39 11 - 78
3-point goals-Seton Hill 7-18 (Stefan Vujacic 2-4; Emmanuel Jackson 2-3;
Jordan Thomas 2-4; Alex Tomic 1-3; Marc Rozanski 0-1; Asa Braxton 0-1;
Mateja Dicic 0-2), Mansfield University 4-16 (CALLAHAN, Ryan 2-5; HILL,
Kevin 2-6; PENDER, Chris 0-1; BOONE, Cory 0-1; CORNELL, Seth 0-1; LUARASI,
Dhimitri 0-1; OWENS, Lavail 0-1). Fouled out--Seton Hill-Emmanuel Jackson;
Alex Tomic; Matt Hewson, Mansfield University-None. Rebounds-Seton Hill 47
(Cody Boone 16), Mansfield University 45 (BOONE, Cory 13). Assists-Seton
Hill 19 (Cody Boone 5), Mansfield University 10 (CALLAHAN, Ryan 3; PENDER,
Chris 3). Total fouls-Seton Hill 32, Mansfield University 21. A-677