RELEASE DATE: 11/13/07
FOR IMMEDIATE RELEASE: Mansfield men open 2007-08 season hosting Lemoyne Thursday night – Mountaineers return four starters from last season -- Admission just $1.50 to celebrate Mansfield University and Mansfield Borough 150th anniversary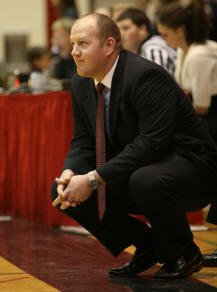 MANSFIELD – The Mansfield University men's basketball team will tip-off the 2007-08 season this Thursday night when they host the Dolphins of Lemoyne College at 7:30 in Decker Gymnasium.
Admission for the game is just $1.50 in honor of 150th anniversary of both Mansfield University and the borough of Mansfield.
"We are anxious to get back to the playoffs," said third-year head coach Rich Miller. "We all remember the last two games of last year and none of us want that to happen again."
Last season a very young team that featured just one senior, jelled into a playoff contender after winning just two of their first 12 games. The Mountaineers needed to win one of their final two games of the season to earn a fifth straight playoff appearance but dropped overtime games at East Stroudsburg and Bloomsburg to end their season.
Miller will have a much more experienced team this season that will revolve around a core group of guards who ranked among the conference leaders in 2006-07.
"Our guards are the strength of the team," reports Miller. "They make everything go."
One thing for certain is that the Mountaineer offense has been on the go for a long time.
Mansfield has ranked among the top scoring teams in the PSAC for each of the past five seasons and expects more of the same this year. But Miller also vows to improve on last season's defense which allowed the most points in the conference.
Seniors guards John Hampton and Kevin Hill were the top two scorers on last year's team and both will be expected to resume those roles this season.
Hampton averaged a team-best 14.6 points per game during his junior season and ranked in the top 15 of five different offense categories in the conference. Hill ranked second in scoring (14.1 ppg) and topped the PSAC in 3-point field goals made (90) and 3-point field goal percentage (45.5%).
Also returning in the backcourt is junior point guard Chris Greene. Last season Greene was the conference assist leader (132) while averaging 9.7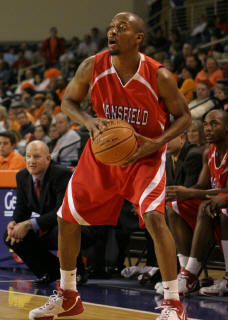 points per game. He also ranked 10th in the PSAC in steals (45).
The team is a deep as it is talented at guard with sophomore Chris Pender returning after appearing in all 27 games last season where he averaged 4.7 points and 2.3 rebounds per game. Also returning is sophomore Seth Cornell and senior Armen Henderson both of whom joined the team in the second semester last season.
Newcomer Ryan Callahan has been impressive in the preseason as well. The sophomore transfer from Division I Wagner, where he appeared in 18 games last season, is a solid outside shooter who can also go to the basket. Red-shirt freshman Lavail Owens has also shown promise and is expected to see plenty of playing time.
In order to be effective from the outside, the Mountaineers will have to establish an inside presence. Senior Brandon Lawley came on strong at the end of last season and averaged 8.5 points and a team best 5.2 rebounds per game.
Sophomore Brandon Smith has shown great improvement over his freshman season where he played in all 27 games and will vie for a starting spot this year.
Fellow sophomore Dhimitri Luarasi made eight starts in 24 games as a freshman averaging 4.1 points per game. He is bigger and stronger this season. Cory Boone showed great promise before suffering a season ending injury in the third game of the season. Boone is an excellent player who adds both size and scoring ability to the lineup.
Yuseff Carr is literally the biggest addition to the team. The 6-6, 284 pound Carr is surprisingly mobile and has the ability to be an impact player. Fellow newcomers Duane Oluwadare and Mike Gray are both athletic players who are expected to contribute.
15 of the Mountaineers 27 regular season games are scheduled for Decker Gymnasium this season.