RELEASE DATE: 10/15/07
FOR IMMEDIATE RELEASE: Mansfield men's basketball holds first practice of season – 2007-08 season schedule released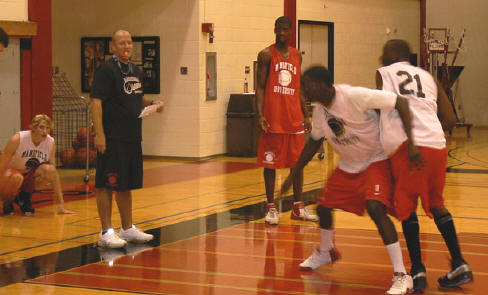 MANSFIELD – Full of hope and expectations, the Mansfield University men's basketball team opened up preparations for the upcoming 2007-08 campaign with the first practice of the season this afternoon at Decker Gymnasium.
"Our guys are eager to get started," said third-year head coach Rich Miller. "They remember the disappointment of the final game of last season and their anxious to get back to the playoffs."
Last season, a very young team played a very difficult schedule but still managed to make a run for a playoff berth losing out in after suffering overtime losses in the last two games of the year.
Mansfield had made the playoffs four straight years before last season.
The Mountaineers lost just one senior from last year's team and return four starters including leading scorers in seniors John Hampton and Kevin Hill.
Other returning starters are senior Brandon Lawley and junior Chris Greene while sophomores Chris Pender, Dhimitre Luarasi, Brandon Smith and Seth Cornell all saw significant action as freshmen last year.
The preseason roster includes 17 players including seven newcomers.
"I'm pleased with the way our guys worked during the off season," reported Miller. "I'm also pleased with their attitude. We all have high expectations for this year."
Fans can get their first glimpse of the team at Mountie Madness this Friday night at 8 p.m. in Decker Gymnasium and then again when they host McMaster University of Canada in an exhibition game on Nov. 2.