RELEASE DATE: 1/15/08
FOR IMMEDIATE RELEASE: Mansfield men posed for playoff run when PSAC East season opens Wednesday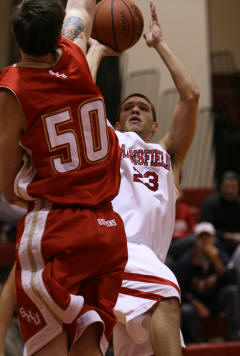 MANSFIELD – If early season success is any indication, the Mansfield University men's basketball program should b e in the thick of things when the Pennsylvania State Athletic Conference (PSAC) opens divisional play this Wednesday.
Mansfield was picked to finish sixth in the seven team PSAC East in the preseason coaches poll released back in early November.
But the young Mountaineers have been the surprise of the conference over the first half of the schedule posting a PSAC best 11-3 mark heading into the start of Divisional play Wednesday at Kutztown.
"Others may be surprised," said head coach Rich Miller about the team's success this season. "But I'm not surprised and I'd don't think anybody on this team is either. We expected to be successful and have worked hard to be so."
Mansfield, which missed the PSAC playoff for the first time in five seasons last year after losing its final two games in overtime, leads the conference in scoring averaging 82.8 points per game. The Mountaineers are also the best 3-point shooting team in the conference in both 3-pointers made (119) and 3-point field goal percentage (40.5%).
The early season success has truly been a team effort with 12 players on the roster appearing in 12 or more games so far this season. It almost seems like someone new leads the team in scoring each game.
Mansfield's guard-driven offense revolves around seniors Kevin Hill and John Hampton as well as sophomore Ryan Callahan and junior Chris Greene.
Hill has a PSAC best 48 3-pointers on the season and ranks sixth in 3-point field goal percentage (.444). He tops the team, and ranks 11th in the conference, in scoring averaging 14.9 points per game. Callahan has come off the bench in all 14 games this season and is second on the team in scoring averaging 10.6 points per game.
Greene, the starting point-guard, is averaging 9.9 points per game and ranks among the conference leaders in free-throw percentage (80.8%), assists (55) and steals (25). Hampton has been slowly but is steadily returning to form after preseason surgery and is averaging 9.7 points per game.
Junior guard Chris Pender has started 12 games and has been hot of late averaging 10.1 points per game over his last five contests. Seth Cornell has spelled Greene at point guard in all 14 games this season where he has dished out 24 assists while scoring 37 points.
Freshman Lavail Owens has been a steady performer at guard where he's appeared in all 14 games averaging 4.5 points per contest.
Senior Brandon Lawley and freshman Yuseff Carr have been the main force inside with Lawley averaging 7.6 points and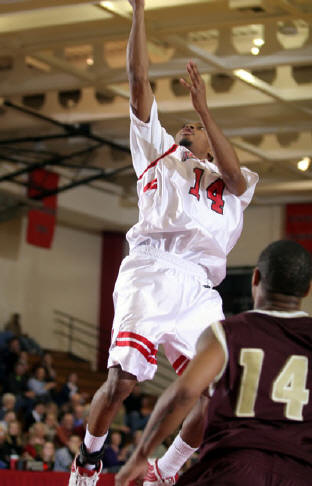 a team best 5.8 rebounds per game. Carr moved into the starting lineup eight games ago and is averaging 6.4 points and 3.8 boards per game.
The Mountaineers have impressive inside depth with sophomore Dhimitri Luarasi averaging 4.2 points and 2.1 rebounds per game while shooting 51% from the floor. Red-shirt freshman Cory Boone has appeared in all 14 games with six starts and is averaging 3.2 points per contest with fellow sophomore forward Brandon Smith playing in 13 games.
Armen Henderson, Mike Gray and Duane Oluwadare have all made sufficient contributions during the season.
The PSAC East promises to be very competitive. All seven teams in the Division have posted winning records in preconference play with East Stroudsburg and Millersville sport 10-3 and 10-4 records currently.
Kutztown has won four of its last five games including victories over IUP and California. The Golden Bears are second in the PSAC in scoring (78.7 ppg) and are led by Steven Dennis (19.4 ppg) and Dave Ben (15.6 ppg) who both rank in the top ten in the conference in scoring.
Mansfield travels to Millersville on Saturday.
PSAC East Standings 1/15/08
Eastern Division

| | | | |
| --- | --- | --- | --- |
| | PSAC | Overall | Win % |
| | 0-0 | 11-3 | .785 |
| | 0-0 | 10-3 | .769 |
| | 0-0 | 10-4 | .714 |
| | 0-0 | 8-5 | .615 |
| | 0-0 | 7-4 | .600 |
| | 0-0 | 8-6 | .571 |
| | 0-0 | 8-6 | .571 |