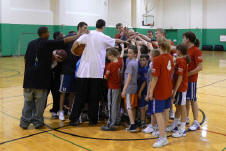 The Mansfield University Men's Basketball Team will be conducting a Winter Junior Mountie Program. Junior Mounties is designed to offer boys and girls in local schools in grades 2nd–8th the opportunity to participate in an organized league where they will learn the game from Mansfield University's Basketball Players and Coaches.
The Junior Mountie League will emphasize the fundamentals of basketball. Each boy and girl will be placed on a team and coached by a Mansfield University Basketball Player for the duration of the league. All Junior Mountie participants will be grouped by age and ability so that they can learn at their own pace and play against competition at the same skill level.
The league will be conducted on Sunday evenings from 5:00-6:00pm or 6:00-7:00pm beginning on November 4 and ending on December 16. The November 4th session will begin at 5:00pm and end at 6:00pm for all participants. Following the first session, each boy and girl will be contacted to let them know what team they are on and when they play on Sunday nights for the remainder of the League.
The Cost to participate in the league will be $45.00. If more than one child from the same family is attending then your cost will be $40.00 per child. Checks should be made payable to "Mansfield University Men's Basketball." Please register by November 1st. Every participant will receive a Mansfield University Jr. Mountie Basketball T-Shirt.