RELEASE DATE: 12/02/07
FOR IMMEDIATE RELEASE: Furious second half comeback falls short in 72-65 loss at IUP – Mounties fall for first time this season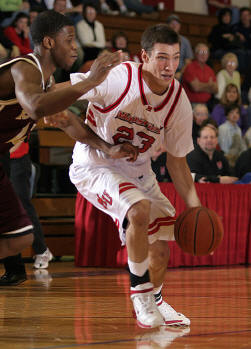 INDIANA, PA -- Kevin Hill scored 12 of his game-high 20 points in the second half to key a furious rally but it wouldn't be enough as Mansfield came up short in a 72-65 loss in a PSAC crossover contest at IUP Sunday afternoon.
"We didn't do a very good job against their zone in the first half," said head coach Rich Miller. "Even when we got the shots we wanted we couldn't get them go down and our big guys couldn't get anything done inside."
It was the first loss of the season after five straight wins for the Mountaineers who shot just 26% from the first half and trailed 34-22 at halftime.
The Mountaineers remained in their funk for the first five minutes of the second half with IUP taking a 42-24 lead on a layup by Darryl Webb.
But Mansfield came storming back starting with two 3-pointers by Chris Pender to go on a 16-3 run cutting the lead to 45-40 on a Ryan Callahan layup at the 11:19 mark.
IUP got the lead back to 10 points with a 5-0 run a minute later before Mansfield cut it back to five on a John Hampton 3-pointer with 6:10 to go.
Mansfield (5-1) whittled the lead down to 58-56 on Callahan free throw with 2:33 to go. The most critical moment of the game came a minute later when IUP's Webb missed his second free but his teammate Gerald Brook got the rebound, hit a layup and made a free throw to give IUP a 63-56 lead.
"That just deflated us," said Miller. "To overcome that big of a lead you have to do everything right and have everything go for you. We did that up until that play and that just turned everything around."
Hill hit 6-11 3-pointers in scoring his 20 points with Ryan Callahan coming off the bench to scored 15 points. John Hampton also came off the bench to score 10 points.
Webb topped four IUP (4-1) players in double figures with 20 points while Sean Christiansen scored 17.
Mansfield will host Penn College this Wednesday evening at 7 p.m.