RELEASE DATE: 5/15/08
FOR IMMEDIATE RELEASE: John Hampton named assistant women's coach at Clarkson University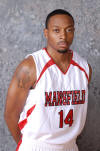 POTSDAM, NY – Just a week after graduating Mansfield University men's basketball standout John Hampton has a job as the assistant women's basketball coach at Clarkson University.
"We are pleased for and proud of John," said Mountaineer head coach Rich Miller. "Coaching is something John's been interested in for awhile and he will be a great coach. Not only does he have a strong playing background, he also has a knack for dealing with people."
Hampton, who graduated from Mansfield University this past May with a degree in Business Administration, was selected as a Pennsylvania State Athletic Conference East Division All-Star following his senior season in which he averaged 11.8 points per game despite being saddled with injuries. A two-year captain with the Mountaineers, Hampton scored 924 career points through 98 games, and added in 333 rebounds, 185 assists and 155 steals. The team's most valuable player after his junior year, Hampton averaged 14.6 ppg in 2006-07.

A native of Philadelphia, PA, Hampton has spent the last few years working in a variety of capacities with the youth of the Philadelphia area. He has also functioned as a coach for youth teams at Mansfield University camps.
He joins former teammate Brett Longpre' as an assistant coach at the NCAA Division III level. Longpre' has been the assistant coach at Greensboro College (NC) for the past two years.