RELEASE DATE: 8/22/07
FOR IMMEDIATE RELEASE: Mountaineer Men's Basketball to host 2nd Annual 3-Man Scramble on Sept. 16 at Corey Creek Golf Club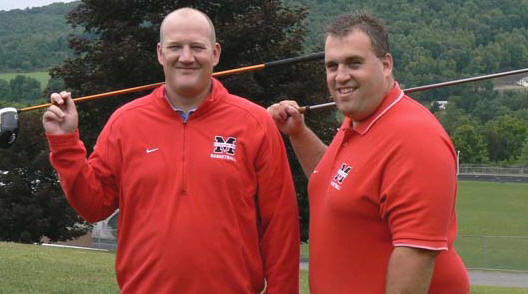 MANSFIELD – Head coach Rich Miller and the Mansfield University men's basketball program will host the 2nd Annual MU Men's Basketball 3-Man Scramble on September 16, 2007 at the Corey Creek Golf Club in Mansfield. The shotgun start begins at 1 p.m.
"We had a great time last year," said Miller. "It's a competitive tournament designed for good players but duffers enjoy playing also."
The scramble has a 30 minimum handicap per team and the $300 per team entry fee includes greens fee, carts, skin game, lunch and other prizes.
The first place team wins $1200 with $900 to the second place threesome. Third place shares $600 with $300 going to fourth place.
"The scramble maybe just a year old," said tournament coordinator Jeff Kurzejewski. 'But it's already developed a great reputation and a strong following. If you like golf, it's definitely something you want to be involved in."
All funds raised from the scramble go to help support the Mansfield University men's basketball program.
For more information or to register call Rich Miller at (570) 662-4862 or download a registration form online at www.gomounties.com.
Click Here to Download Registration Form
###