Release Date: 12/1/07
For Immediate Release: Mansfield Men's basketball time improves to 5-0 for first time since 2000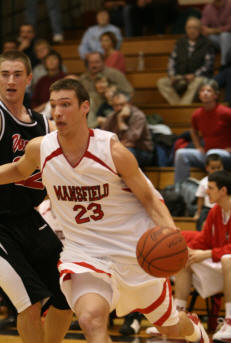 Clarion- Chris Greene came off the bench to score 18 points to lead Mansfield to an 85-73 win over Clarion Saturday afternoon.
"Chris played a great game for us," head coach Rich Miller said. "Especially after not being able to play in the last game, that was a great effort by him tonight."
The last time Mansfield started the season 5-0 was in 2000, that team got off to an 8-0 start.
Clarion scored the first point of the game, but Mansfield went ahead 4-2 on a layup by Kevin Hill. Mansfield then opened up a 12 point lead by going on a 10-0 run that was capped off by two Chris Greene free throws.
A layup by Brandon Lawley gave Mansfield its biggest lead of the half at 27-13, but Clarion fought back and cut the deficit in half for a 36-29 halftime score.
Mansfield increased the lead to 10 on a three-pointer by Hill, but Clarion cut the lead down to six with 13 minutes to go.
It was a four point game with seven minutes to go, when Kevin Hill hit a layup and Chris Pender added a layup to give Mansfield an eight point lead.
With four minutes to go, Brandon Smith slammed home a rebound off a missed shot to give Mansfield a 67-58 lead, and momentum. "That was a momentum changer," Miller said of Smith's thunderous dunk.
Mansfield increased the lead to 74-62 on a three-pointer by Hill. Clarion fought back one more time and cut the lead to six with just over a minute to go, but Ryan Callahan, Lawley and John Hampton iced the game by making a pair of free throws and giving Mansfield the 85-73 win.
"We did a good job of scoring inside tonight," Miller said. "They did a nice job of taking away our outside game. We got a big game out of a lot of different guys tonight."
The Mountaineers took only ten three-pointers, making three of them.
Greene had six assists to go along with his game high 18 points. Hill had 15 and 11 different players scored for the Mountaineers.
Mansfield travels to IUP on Sunday.
Official Basketball Box Score -- GAME TOTALS -- FINAL STATISTICS
Mansfield vs Clarion "Golden Eagles"
12/01/07 3 p.m. at Clarion, Pa. (Tippin Gym)
--------------------------------------------------------------------------------
VISITORS: Mansfield
TOT-FG 3-PT REBOUNDS
## Player Name FG-FGA FG-FGA FT-FTA OF DE TOT PF TP A TO BLK S MIN
20 CORNELL, Seth....... * 1-2 0-0 0-0 0 0 0 0 2 0 1 0 1 10
23 HILL, Kevin......... * 6-11 2-4 1-3 0 2 2 1 15 1 1 0 0 22
24 BOONE, Cory......... * 3-4 0-0 0-0 1 3 4 0 6 0 2 4 0 15
32 LAWLEY, Brandon..... * 3-7 0-0 3-6 4 4 8 4 9 1 0 0 1 23
44 PENDER, Chris....... * 1-3 0-2 1-2 1 3 4 1 3 2 2 0 0 22
00 CARR, Yuseff........ 3-3 0-0 1-2 0 1 1 4 7 0 1 0 0 15
14 HAMPTON, John....... 2-3 0-1 3-6 0 1 1 3 7 2 2 0 3 18
15 GREENE, Chris....... 6-9 1-2 5-7 0 1 1 3 18 6 2 0 0 28
30 OWENS, Lavail....... 2-2 0-0 1-1 0 1 1 0 5 1 0 0 0 6
35 CALLAHAN, Ryan...... 0-2 0-1 7-8 1 1 2 3 7 0 4 0 1 16
42 LUARASI, Dhimitri... 0-1 0-0 0-0 0 0 0 3 0 0 1 1 0 5
50 SMITH, Brandon...... 3-5 0-0 0-0 2 3 5 3 6 0 2 0 0 20
TEAM................ 1 2 3 1
Totals.............. 30-52 3-10 22-35 10 22 32 25 85 13 19 5 6 200

TOTAL FG% 1st Half: 0-0 0.0% 2nd Half: 30-52 57.7% Game: 57.7% DEADB
3-Pt. FG% 1st Half: 0-0 0.0% 2nd Half: 3-10 30.0% Game: 30.0% REBS
F Throw % 1st Half: 0-0 0.0% 2nd Half: 22-35 62.9% Game: 62.9% 7

--------------------------------------------------------------------------------
HOME TEAM: Clarion "Golden Eagles"
TOT-FG 3-PT REBOUNDS
## Player Name FG-FGA FG-FGA FT-FTA OF DE TOT PF TP A TO BLK S MIN
00 GROSS, Damon........ * 6-7 0-0 2-6 3 4 7 4 14 1 2 2 1 34
01 JONES, Lonnell...... * 2-2 0-0 1-2 2 0 2 2 5 0 5 0 0 17
12 GRAHAM, Demetrius... * 5-10 1-3 4-4 1 0 1 5 15 6 5 0 3 30
31 SHERRY, Mike........ * 2-9 2-6 0-0 2 1 3 5 6 2 3 1 0 22
42 YANKE, Josh......... * 7-14 0-0 0-0 2 1 3 3 14 3 0 0 2 37
04 NELSON, Brent....... 0-1 0-0 0-0 0 1 1 2 0 0 2 0 0 7
05 HOLLIS, Ron......... 2-6 1-5 1-1 0 1 1 3 6 0 3 0 1 18
10 RICHBURG, Lamar..... 2-3 0-0 6-8 0 2 2 2 10 2 1 0 0 12
15 CARTY, Shameel...... 1-5 0-2 1-2 0 5 5 4 3 0 0 0 1 23
TEAM................ 2 3 5
Totals.............. 27-57 4-16 15-23 12 18 30 30 73 14 21 3 8 200

TOTAL FG% 1st Half: 0-0 0.0% 2nd Half: 27-57 47.4% Game: 47.4% DEADB
3-Pt. FG% 1st Half: 0-0 0.0% 2nd Half: 4-16 25.0% Game: 25.0% REBS
F Throw % 1st Half: 0-0 0.0% 2nd Half: 15-23 65.2% Game: 65.2% 4

--------------------------------------------------------------------------------
Officials: Rob Mrakovich, Jeff Anderson, Joe Brogan
Technical fouls: Mansfield-HAMPTON, John. Clarion "Golden Eagles"-YANKE,
Josh.
Attendance: 250
Score by Periods 1st 2nd Total
Mansfield..................... 36 49 - 85
Clarion "Golden Eagles"....... 29 44 - 73