RELEASE DATE: 2/26/08
FOR IMMEDIATE RELEASE: Cold first half dooms Mounties playoff hopes in 64-54 loss at East Stroudsburg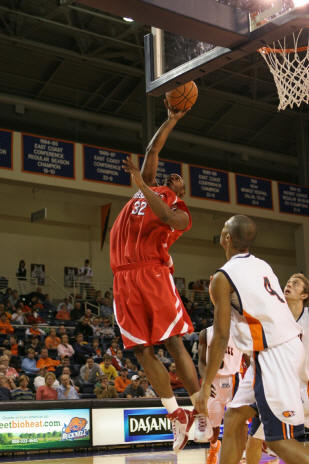 EAST STROUDSBURG – Mansfield couldn't overcome a season-low 18 first half points and the Mountaineers saw their PSAC playoff hopes come to a heart-breaking end in a 64-54 loss PSAC East loss at East Stroudsburg Wednesday night.
Mansfield trailed 21-18 with 3:51 remaining in the first half but East Stroudsburg went on a 10-0 to end the first half with a 31-18 lead.
The Mountaineers chipped away at the lead in the second half, closing the gap to 42-41 on a layup by Brandon Lawley midway through the second half. A pair of Ryan Callahan free throws two minutes later tied the score at 44-44 with 9:18 to play.
The Mountaineers trailed 49-47 after Yuseff Carr hit a layup with 6:35 remaining before East Stroudsburg put together a 15-7 run to close out the game.
Brandon Lawley scored a game high 21 points and pulled down 12 rebounds for the Mountaineers.
Channon Easley scored 17 points with 16 rebounds to lead East Stroudsburg (18-8, 6-5) and earn the Warriors the final playoff berth in the PSAC East.
Mansfield (16-10, 4-7) will finish out the regular season by hosting Bloomsburg this Saturday.