RELEASE DATE: 1/12/08
FOR IMMEDIATE RELEASE: Mansfield men ice-cold in 91-67 loss at Edinboro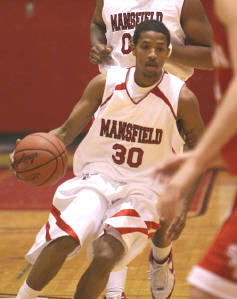 EDINBORO – The Mansfield University men's basketball never got untracked in a 91-67 setback at Edinboro in a PSAC crossover contest Saturday afternoon.
Mansfield shot jut 22% (8-36) in the first half while Edinboro connected on 57% (20-35) of its shots in the first half in building a insurmountable 51-23 halftime advantage.
The Mountaineers were able to outscored Edinboro 44-40 in the second half but the damaged was far to great to overcome.
Kevin Hill hit a 3-pointer for the game's first bucket but the Mountaineers went stone-cold right after hitting just one of their next 16 shots to trail 32-11 ten minutes into the game when Brandon Lawley finally scored on a layup.
Mansfield also struggled on the boards, being out-rebounded 55-34. Mansfield hit a season-low 30.9% of its shots in the game while Edinboro connected on a season-high 55.4%.
Hill was the only Mountaineer in double-figures with 11 points. Lavail Owens added nine points off the bench.
Ryan McLemore topped four Edinboro players in double-figures and recorded a double-double with 21 points and 16 rebounds.
Mansfield travels to Slippery Rock on Sunday before opening the PSAC East season at Kutztown on Wednesday.