RELEASE DATE: 1/26/08
FOR IMMEDIATE RELEASE: Cheyney holds on to beat Mansfield 82-77 despite 28 point effort from John Hampton
Boxscore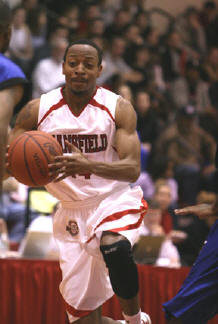 MANSFIELD – John Hampton scored a game-high 28 and Mansfield rallied from a large early game deficit but it would be enough as Cheyney hung on to beat Mansfield 82-77 in a PSAC East contest Saturday afternoon in Decker Gym.
"You have to play with high intensity all 40 minutes against an athletic team like Cheyney," said head coach Rich Miller. "We didn't do that in the first half and paid the price. We're going to have to find some solutions because the PSAC East is full of tough teams we can't afford not to play well for all 40 minutes of every game."
Mansfield opened the game with a 3-pointer by Kevin Hill but Cheyney was virtually unstoppable in the first 10 minutes of the game connecting on an amazing 82.5% of their shots to take a 35-19 lead.
Cheyney increased the lead to as much as 41-22 on a jumper by Tyrone Smith with 7:09 to play in the first half before the Mountaineers rallied with a 21-3 run to cut the lead to 43-38 on a 3-pointer by Hampton with 2:21 remaining before intermission.
Cheyney, which shot 70% from the floor in the first half, took a 53-44 lead into halftime but Mansfield rallied again cutting the lead to 70-67 of a pair of free throws by Brandon Lawley mid-way through the second.
Mansfield pulled to 72-70 on a Hampton 3-pointer at the 6:49 mark and trailed 80-77 when Hampton hit a pair of free throws with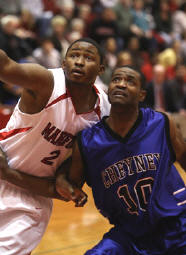 1:05 to play but could get no closer.
In addition to his 28 points, Hampton pulled down five rebounds. Brandon Lawley had a double-double with 19 points and a game-high 13 rebounds while Chris Greene added 11 points.
Cheyney (9-5, 2-1) had five players score in double figures led by Robbie Simpson with 20 points and five blocked shots.
Mansfield (12-6, 0-3) host East Stroudsburg on Wednesday night at Decker Gym.
Cheyney University vs Mansfield University
1/26/08 3pm at Decker Gym
--------------------------------------------------------------------------------
VISITORS: Cheyney University 9-5 (2-1)
TOT-FG 3-PT REBOUNDS
## Player Name FG-FGA FG-FGA FT-FTA OF DE TOT PF TP A TO BLK S MIN
01 MORRIS, Dawud....... * 3-5 1-2 0-0 0 2 2 4 7 1 4 1 0 19
03 BRASWELL, Edwin..... * 3-9 1-4 6-6 0 1 1 1 13 7 2 0 3 38
04 SMITH, Tyrone....... * 8-12 0-2 2-4 2 3 5 2 18 3 1 0 0 40
32 CURRY, Dominique.... * 5-7 0-0 2-2 2 2 4 4 12 0 1 0 2 14
33 SIMPSON, Robbie..... * 8-14 0-0 4-7 0 4 4 2 20 1 2 5 5 33
02 EASLEY, Dwayne...... 1-2 0-0 0-0 1 1 2 2 2 1 1 0 2 17
10 JEAN-PHILLIPPE, F... 0-1 0-0 0-0 0 0 0 0 0 0 0 0 0 7
23 PITTMAN, Jeremy..... 1-2 1-2 1-2 0 0 0 3 4 1 1 0 2 13
30 MCPHERSON, Maurice.. 2-3 0-0 2-2 2 2 4 5 6 1 2 0 3 19
TEAM................ 3 2 5
Totals.............. 31-55 3-10 17-23 10 17 27 23 82 15 14 6 17 200

TOTAL FG% 1st Half: 21-30 70.0% 2nd Half: 10-25 40.0% Game: 56.4% DEADB
3-Pt. FG% 1st Half: 2-4 50.0% 2nd Half: 1-6 16.7% Game: 30.0% REBS
F Throw % 1st Half: 9-10 90.0% 2nd Half: 8-13 61.5% Game: 73.9% 0

--------------------------------------------------------------------------------
HOME TEAM: Mansfield University 12-6 (0-3)
TOT-FG 3-PT REBOUNDS
## Player Name FG-FGA FG-FGA FT-FTA OF DE TOT PF TP A TO BLK S MIN
00 CARR, Yuseff........ * 0-3 0-0 7-8 1 1 2 3 7 1 2 0 2 27
14 HAMPTON, John....... * 8-18 5-8 7-11 3 2 5 0 28 2 2 1 1 36
15 GREENE, Chris....... * 3-6 2-3 3-4 0 0 0 5 11 4 2 0 1 36
23 HILL, Kevin......... * 1-3 1-3 0-0 1 1 2 0 3 0 2 1 0 17
32 LAWLEY, Brandon..... * 6-10 0-0 7-9 5 8 13 4 19 0 5 1 2 34
01 OLUWADARE, Duane.... 0-0 0-0 0-0 0 0 0 0 0 0 1 0 0 0
02 Rodney Norris....... 2-4 0-0 0-1 2 2 4 1 4 1 2 1 0 10
03 HENDERSON, Armen.... 0-1 0-0 0-0 1 3 4 3 0 2 1 0 1 19
20 CORNELL, Seth....... 0-0 0-0 0-0 0 1 1 1 0 0 0 0 0 4
24 BOONE, Cory......... 0-1 0-0 0-0 0 0 0 0 0 0 0 0 1 3
30 OWENS, Lavail....... 1-1 1-1 0-0 0 1 1 0 3 1 1 0 0 6
35 CALLAHAN, Ryan...... 1-4 0-2 0-0 1 0 1 0 2 0 2 0 0 3
42 LUARASI, Dhimitri... 0-1 0-0 0-0 0 0 0 1 0 1 0 0 0 3
50 SMITH, Brandon...... 0-0 0-0 0-0 0 0 0 1 0 0 0 0 0 2
TEAM................ 3 3
Totals.............. 22-52 9-17 24-33 17 19 36 19 77 12 20 4 8 200

TOTAL FG% 1st Half: 13-31 41.9% 2nd Half: 9-21 42.9% Game: 42.3% DEADB
3-Pt. FG% 1st Half: 6-12 50.0% 2nd Half: 3-5 60.0% Game: 52.9% REBS
F Throw % 1st Half: 12-19 63.2% 2nd Half: 12-14 85.7% Game: 72.7% 4

--------------------------------------------------------------------------------
Officials: Rich Alsberry, Paul Saroka, Mark Weir
Technical fouls: Cheyney University-None. Mansfield University-None.
Attendance: 960

Score by Periods 1st 2nd Total
Cheyney University............ 53 29 - 82
Mansfield University.......... 44 33 - 77