RELEASE DATE: 2/06/08
FOR IMMEDIATE RELEASE: Mounties rally down the stretch to pull out 64-56 win at Bloom – Mansfield wraps up first half of PSAC East season at 3-3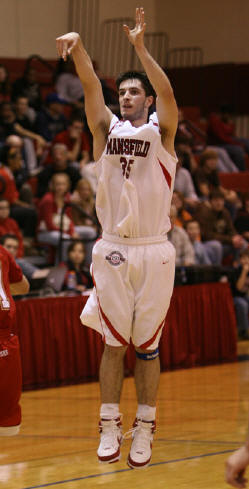 BLOOMSBURG – Ryan Callahan came of the bench to score a game-high 17 points and Mansfield outscored Bloomsburg 16-8 over the game's final five minutes in a 64-56 PSAC East win at Bloomsburg Wednesday night.
"We couldn't shoot layups and we couldn't score in the first half but got a good life from Ryan Callahan," said head coach Rich Miller. "But we got a big boost from our fans in the second half. It was just awesome we had two bus loads of students come down and they made a big difference."
Mansfield shot an ice-cold 28% from the floor in the first half and trailed 64-56 at halftime. The Mountaineers usually high scoring guard combination of Kevin Hill, Chris Greene and John Hampton combined for just two points in the first half but Callahan come off the bench and kept Mansfield in the game with 11 first half points.
Mansfield came out strong to start the second half and tied the score a 32-32 on a layup by Brandon Lawley two minutes into the second half.
Bloomsburg came right back to retake the lead and lead 47-42 with ten minutes before Mansfield responded with a 6-0 run to retake the lead on a 3-pointer by John Hampton two minutes later.
Mansfield upped its lead to 55-49 on a 3-pointer by Chris Pender but Bloomsburg closed to 55-54 on a John Allen layup with 4:19 to play.
The Mountaineers held a three point lead with 1:46 to go before John Hampton hit a 3-pointer 17 seconds later to give Mansfield a commanding 62-56 lead.
In addition to Callahan's 17 points, John Hampton scored 12 points and Brandon Lawley nine.
Nick Jones had 16 points to lead Bloomsburg with Jeremiah Long chipping in with a double-double with 13 points and 13 rebounds.