Release Date: 1/19/08
For Immediate Release: Men fight back but fall to Millersville 74-68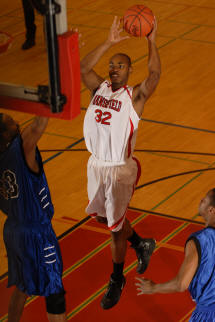 Millersville- Mansfield fought back from a halftime deficit to take a two point lead with eight minutes to go but was unable to hang on losing to Millersville 74-68 Saturday afternoon at Millersville.
Mansfield scored the first three points on foul shots by Kevin Hill but Reggie Bates quickly tied the game for Millersville.
The Mountaineers then went on an 11-4 run started by a jumper from Ryan Callahan to take a 22-15 lead. Millersville's Zac Bauermaster made a three-pointer to make it 22-18 but Mansfield scored the next five points to increase the lead. Dhimitri Luarasi hit a three-pointer to make the lead 27-20, but Millersville fought back with a 12-0 run to take a 30-27 lead.
Millersville went on a 16-1 run at the end of the half for a 36-28 lead.
Mansfield went on a 15-0 run early in the first half to take a 47-40 lead. The run was sparked by a lay-up from Brandon Lawley and John Hampton who had nine points in the run.
With eight minutes to go, Millersville's Charlie Parker scored six straight points to give the Marauders a two point lead. Millersville increased their lead to as many as eight but with less than three minutes to go Lawley got Mansfield back within two at 63-61.
The Mountaineers got no closer as Millersville hung on for the 74-68 win.
It was a physical game that featured a combined 56 fouls and five technical fouls and four players, three from Mansfield, fouling out of the game.
Lawley led Mansfield with his second double-double of the season with 18 points and 10 rebounds. Hampton also added 18 points. Parker had a game high 23 points for Millersville.
Mansfield will be back in action on Wednesday January 23 when they take on the District of Columbia University at 7 p.m.