RELEASE DATE: 12/18/07
FOR IMMEDIATE RELEASE: Mountaineer Men Run Away From LHU in Second Half to Open Season 7-1
MANSFIELD – Four Mountaineer players scored in double figures to lead Mansfield past Lock Haven 96-74 in a PSAC crossover contest at Decker Gymnasium on Tuesday evening.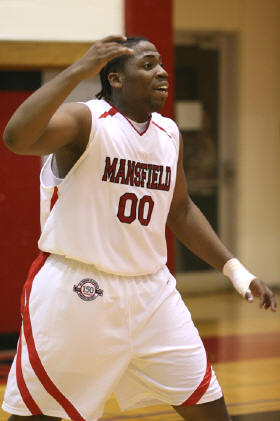 Yuseff Carr scored a career-high 19 points to spark the Mountaineers offense to a 60 point showing in the second half.
"Yuseff played great tonight," said head coach Rich Miller. "He really stepped up for us and was a dominating presence in the paint tonight."
The Mountaineers got out of the blocks slowly, registering 15 fouls in the first half while shooting 40.5% from the field as Lock Haven carried a 37-36 lead into the intermission.
"It wasn't pretty to watch in the first half," said Miller. "We made some adjustments at the half and decided we would try to change the tempo of our game. The guys did a nice job executing the game plan in the second half.
Mansfield came out firing on all cylinders in the second half as the Mountaineers opened with a 20-9 run to take a 56-46 lead with 13 minutes to play.
Mansfield would slowly pull away throughout the next 12 minutes, building the lead up to as much as 25 points at 96-71 with under a minute to play.
The Mountaineers bounced back in the second half by shooting 66.7% from the field and scoring 60 points.
Sophomore transfer Ryan Callahan spurred the Mountaineers offense in the second half, recording 14 of his 16 points after the intermission.
Carr led the way for the Mountaineers with a career-high 19 points while pulling down eight rebounds and registering two blocks. Senior Kevin Hill scored 16 points while pulling down five boards and junior Chris Greene added 10 points, six rebounds and four assists. 13 Mountaineer players contributed to the scoring effort on the evening.
Billy Arre led Lock Haven with a game-high 21 points while Justin Wilson added 19 points in 38 minutes of play.
The Mountaineers finished 52.2% from the floor to the Bald Eagles' 48.2% while Mansfield out-rebounded Lock Haven 47-30 in the contest.
With the win, Mansfield improves to 7-1 on the season as the Bald Eagles drop to 0-8. The Mountaineers are off to their best start since the 2004 season when Mansfield opened the year with a 9-1 mark.
The Mountaineers are back in action tomorrow night, as they host Shippensburg University in a PSAC crossover contest scheduled for 7:30 p.m.
Official Basketball Box Score
Lock Haven University vs Mansfield University
12/18/07 7:30 p.m. at Mansfield, Pa. Decker Gymnasium
--------------------------------------------------------------------------------
VISITORS: Lock Haven University 0-8
TOT-FG 3-PT REBOUNDS
## Player Name FG-FGA FG-FGA FT-FTA OF DE TOT PF TP A TO BLK S MIN
33 ARRE, Billy......... f 8-14 2-5 3-6 1 2 3 4 21 0 0 0 1 30
34 DYE, Michael........ f 2-7 0-0 2-6 1 4 5 5 6 1 6 1 2 21
03 CARSON, Ryan........ g 5-12 2-6 7-12 2 3 5 2 19 2 1 0 0 38
22 GAMBLE, Toby........ g 2-4 0-1 0-0 1 1 2 3 4 1 3 0 1 33
23 CHAPPELL, James..... g 3-5 0-0 0-2 0 3 3 1 6 0 5 0 1 16
11 KENNEDY, Bruce...... 1-2 1-1 0-0 0 0 0 0 3 0 0 0 0 3
13 LEVEQUE, J.F........ 0-1 0-1 0-0 1 0 1 2 0 1 2 0 0 4
15 DeJESUS, Jason...... 1-2 0-0 0-0 1 0 1 0 2 0 0 0 0 9
24 ZIMMER, A.J......... 1-1 0-0 1-3 0 0 0 3 3 1 0 1 0 14
25 HANNA, Eli.......... 1-2 1-2 0-0 0 0 0 2 3 4 1 0 0 17
32 MCLEAN, Kelvin...... 3-6 1-2 0-2 3 3 6 2 7 3 0 1 0 15
TEAM................ 1 3 4
Totals.............. 27-56 7-18 13-31 11 19 30 24 74 13 18 3 5 200

TOTAL FG% 1st Half: 14-27 51.9% 2nd Half: 13-29 44.8% Game: 48.2% DEADB
3-Pt. FG% 1st Half: 3-7 42.9% 2nd Half: 4-11 36.4% Game: 38.9% REBS
F Throw % 1st Half: 6-18 33.3% 2nd Half: 7-13 53.8% Game: 41.9% 6

--------------------------------------------------------------------------------
HOME TEAM: Mansfield University 7-1
TOT-FG 3-PT REBOUNDS
## Player Name FG-FGA FG-FGA FT-FTA OF DE TOT PF TP A TO BLK S MIN
00 CARR, Yuseff........ f 9-13 0-0 1-4 3 5 8 4 19 1 1 2 1 22
32 LAWLEY, Brandon..... f 0-5 0-0 4-4 3 3 6 5 4 1 2 0 0 16
15 GREENE, Chris....... g 3-7 0-2 4-4 1 5 6 3 10 4 5 0 2 27
23 HILL, Kevin......... g 5-11 2-8 4-4 2 3 5 2 16 1 2 0 1 27
44 PENDER, Chris....... g 3-6 2-3 1-2 3 2 5 2 9 4 0 0 0 24
01 WILLIAMS, Terrance.. 0-1 0-0 0-0 1 0 1 1 0 0 1 0 0 2
03 HENDERSON, Armen.... 1-1 0-0 0-0 0 1 1 0 2 0 1 0 1 2
14 HAMPTON, John....... 3-6 0-3 0-1 0 3 3 4 6 0 0 0 0 14
20 CORNELL, Seth....... 1-1 0-0 0-0 0 0 0 1 2 3 1 0 0 5
21 WEBB, Jovoun........ 0-0 0-0 0-0 0 0 0 0 0 0 0 0 0 2
24 BOONE, Cory......... 1-1 0-0 0-0 0 0 0 1 2 0 0 0 0 3
30 OWENS, Lavail....... 1-3 0-1 1-3 1 1 2 0 3 1 0 1 0 19
35 CALLAHAN, Ryan...... 5-8 1-2 5-6 1 3 4 2 16 2 3 0 2 21
42 LUARASI, Dhimitri... 1-2 0-0 0-0 0 2 2 1 2 0 1 0 0 7
50 SMITH, Brandon...... 2-2 0-0 1-2 0 1 1 2 5 0 1 0 0 9
TEAM................ 2 1 3
Totals.............. 35-67 5-19 21-30 17 30 47 28 96 17 18 3 7 200

TOTAL FG% 1st Half: 15-37 40.5% 2nd Half: 20-30 66.7% Game: 52.2% DEADB
3-Pt. FG% 1st Half: 2-14 14.3% 2nd Half: 3-5 60.0% Game: 26.3% REBS
F Throw % 1st Half: 4-9 44.4% 2nd Half: 17-21 81.0% Game: 70.0% 5

--------------------------------------------------------------------------------
Officials: Dick Stauer, Chris Boehm, Rich Kotarsky
Technical fouls: Lock Haven University-None. Mansfield University-None.
Attendance: 262
Score by Periods 1st 2nd Total
Lock Haven University......... 37 37 - 74
Mansfield University.......... 36 60 - 96