Release Date: 11/20/07
For Immediate Release: Kevin Hill named PSAC East Player of the Week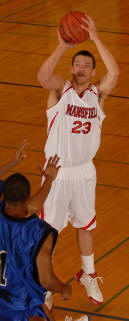 Mansfield- Kevin Hill (Mansfield/Mansfield) was named PSAC East Division Player of the Week after his record setting performance against Seton Hill on Saturday.
Hill set a school and PSAC record by making 13 three-pointers in the 104-93 victory on his way to a 47 point performance.
Hill's 13 three-pointers breaks the school record set by Barrett Jones who made 10 three-pointers against West Chester in 1995, and the conference record set by Brent Kincaid of California and Damien Blair of West Chester.
Hill's 13 three-pointers is just three off the national record set by Thomas Vincent of Empoira State (2004) and Markus Hallgrimson of Montana State-Billings (2000) who made 16 three-pointers.
His 47 points was the most scored by a Mountaineer since Jason Benson scored 53 against West Virginia State in 2005.